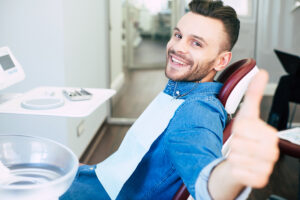 Dental fillings are a conservative treatment option for cavities, as they preserve healthy enamel and, with the right material, can also match its appearance. Patients who visit Sunny Smiles for support can receive lifelike fillings, providing long-term protection in response to decay. Unfortunately, restorations, like our enamel, can experience problems over time. If you have an older filling that feels loose or begins to cause you discomfort, we can provide an evaluation and see what needs to be done to keep your tooth safe. In a situation where a filling is lost or causing significant discomfort, we do offer emergency oral health services to make sure the matter is promptly addressed.
How Worried Should I Be If My Dental Filling Feels Loose?
Once you undergo restorative dental work, you will be in permanent need of the protection that comes from a dental filling or dental crown. As long as your restoration is secure, it can provide the necessary support to keep your tooth safe and stable enough to let you bite and chew without issue. When you no longer feel confident in your protection, you should be concerned. Losing a filling or crown leaves your tooth in a vulnerable position. This problem can lead to new health problems, poor bite function, and cosmetic problems.
We Can Make Sure Your Tooth Is Safe When You Have A Problem With A Restoration
Coming in for an evaluation after your filling becomes loose will lead to the proper treatment for your tooth. There may be a need to provide a crown for a replacement, which will offer more functional support. If we need to provide treatment in this way, we can still make sure that your tooth looks natural and attractive. We can do this because both our fillings and crowns can imitate healthy tooth structure while still providing functional support.
Serious Tooth Problems Can Be Addressed Through Emergency Treatment
If the problem with your filling has caused serious concerns for your appearance and oral health, we can take care of you on short notice. Emergency dental appointments offer prompt support so that an active problem is resolved before there are complications. Knowing that this kind of care is available to you can make the alarming problems with your dental health feel less stressful, as you will be able to proceed with treatment  soon after trouble arises.
Talk To Sunny Smiles If You Have A Loose Dental Filling
A loose dental filling is not a problem to take lightly. Fortunately, there is support available, even if the trouble with your restoration requires care on short notice. To find out more about how we can support you, contact our Sunny Smiles location on Dyer St in El Paso, TX by calling 915-859-7000.