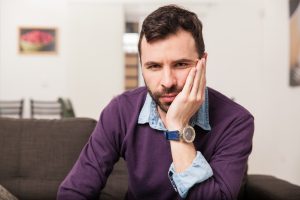 A restoration provides valuable protection for a tooth, and it will need to remain in place to ensure that there are no problems with your oral health at a later date. If something affects that protection, you should seek treatment as soon as possible to avoid difficulties. At Sunny Smiles, we can both provide attractive, lifelike dental fillings and step in to help patients when they have older fillings that are damaged or lost. Through timely treatment, we can make sure that you have no problems with the health or appearance of your tooth, and we can make sure the right restoration is in position to provide reliable support for the long term.
Is Something Wrong With Your Dental Filling?
You should feel confident that your dental filling is secure, supportive, and not vulnerable to injury or loss. If you start to worry that something might be wrong, either because it feels loose, sensitive, or otherwise uncomfortable, let your dentist know as soon as possible. Without its protection, your smile is at higher risk for new problems, including issues with infection that can cause further complications.
Arranging Restorative Treatment At Our El Paso Dental Office
People of all ages in and around the El Paso community can count on Sunny Smiles for support when they need restorative dental work. If your problem concerns an older restoration that is damaged or insecure, we can help by evaluating the restoration and surrounding enamel, then providing the appropriate treatment to keep you safe. One concern is that changes to your tooth structure will require more than just the return of your current filling or the placement of another one. In these situations, it can be necessary to provide protection in the form of a dental crown.
Why You Might Need A Crown To Restore Your Tooth
A dental crown may be needed to protect your tooth after an older or damaged filling is removed. Simply put, we need to make sure that your tooth is safe and stable enough to absorb bite pressure. If changes to the structure affect its ability to do this, even with a filling, a new restoration can protect you against potential complications. We do provide crowns that imitate healthy enamel, so this does not mean your smile will have to be permanently changed!
Talk To Sunny Smiles About A Loose Or Broken Filling
A loose or broken dental filling is not a problem to ignore, as it can leave your tooth in a vulnerable state. Through the proper restorative treatment, we can make sure your smile is properly cared for, and that it looks natural and attractive. If you have questions, or if you have a need for treatment, contact your El Paso, TX, dentists by calling us at 915-849-9000.