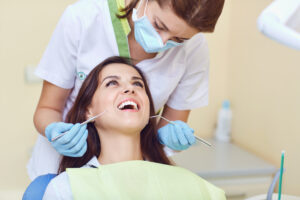 There are only so many hours available to you during the week to take care of your various responsibilities. That can make it difficult to keep up with your oral health needs, as you may find it hard to make room in your schedule for dental visits during traditional office hours. Sunny Smiles makes it easier for El Paso area residents to fit care into their schedules, as we offer office hours on Saturdays! By doing so, we hope to make dental services more accessible for those who want to keep up with their smile care and for those who have concerns about their oral health.
We Can Make Important Oral Health Services Easier To Access
Whether you want to book your next routine visit or take care of an active smile concern, it can be frustrating to encounter scheduling difficulties that make an appointment hard to book. Our practice maintains office hours during the weekend so that you can avoid this kind of problem. Because we are able to see you on a Saturday, you can have less trouble working around your job or other weekly responsibilities. Being able to keep up with smile care is important for several reasons. One is that the routine helps you avoid complications from problems that might develop between visits; another is that because you are regularly having your teeth cleaned, you are less likely to experience difficulties with your well being.
Planning Your Next Routine Appointment
Routine preventive services help patients stay safe from oral health threats like tooth decay and gum disease, and they provide early warnings when there are problems that require restorative dental work. Your dental cleanings remove tartar deposits that you cannot address on your own, and they give you helpful updates about the effectiveness of your daily efforts at brushing and flossing. When your dentist looks over your smile, they can point out cavity concerns and signs of gingivitis. They can also let you know when problems like TMJ disorder are starting to impact you.
We Can Also Accommodate Patients Who Require Urgent Care!
Because we offer emergency dental services, we can help patients when they need our support on short notice. These visits provide prompt care that can put an end to active discomfort, and they see to it that teeth are restored before they can suffer further damage.
Talk To Sunny Smiles About Saturday Office Appointments!
Because we make our services more accessible, we are ready to help individuals who have trouble with finding time for oral health treatment. If you want to set up an appointment, or if you have questions about our services, contact our Sunny Smiles location on Dyer St in El Paso, TX by calling 915-859-7000.