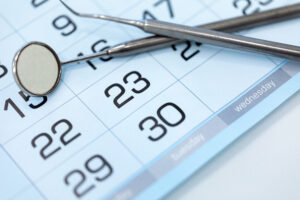 Even for people who realize the importance of consistent oral health care, it can be difficult to find time for dental appointments. Many practices only offer time to schedule treatments on weekdays during regular office hours. At Sunny Smiles, we make care easier to access by keeping our doors open on Saturdays, too! Because of this, we can help people find time to enjoy preventive oral health services, and to seek help when they believe something may be wrong. Taking care to schedule routine visits on a consistent basis helps you fight plaque and tartar buildup, and it protects you against the development of more serious smile concerns.
Have You Struggled To Find Time To See Your Dentist?
Making time for semiannual dental exams and cleanings is important. During each visit, you receive the kind of care that helps you stay safe from the threats of tooth decay and gum disease, and you can enjoy care for any active problems. Unfortunately, not everyone has an easy time making room in their schedule for a routine visit, as they can have limited freedom during traditional office hours. Remaining open on Saturdays makes it easier for people to see us, so they have more chances to receive important care.
The Importance Of Regular Appointments
Regular trips to see your dentist lower your risk for developing cavities and having problems with gum disease. The cleanings provided at these appointments remove the plaque and tartar present on your smile—while you can remove plaque, tartar buildup will remain despite your efforts at brushing and flossing. You also receive important updates about your well-being. A timely treatment for a cavity or gingivitis can prevent more serious problems, and make the care that you require more conservative.
We Also Make Care More Accessible Through Emergency Dental Services
Saturday appointments make care more accessible when you want to set an appointment, but we know some problems call for care as soon as possible. Our patients can come to us when they experience problems that call for urgent care. During your treatment time, the problem that affects you can be reviewed and promptly addressed. This can put an end to a problem that causes you discomfort, and it can address an unsightly issue with your appearance caused by tooth damage.
Talk To Sunny Smiles About Seeing Your Dentist On A Saturday!
Our practice makes oral health services available on Saturdays, which helps patients find access to support when they normally struggle to schedule treatments. Patients in and around the El Paso area can rely on us for a variety of services, as we offer preventive services and restorative treatments in addition to cosmetic care. If you would like to find out more, contact your El Paso, TX, dentists by calling our practice at 915-849-9000.