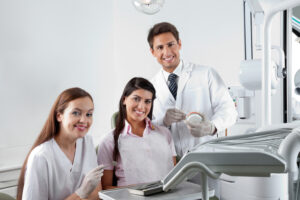 Are you confident that you will keep up with your oral health care in the new year? One reason why people sometimes have a hard time with this is that they simply struggle to find time for their appointments. Sunny Smiles can make this easier for you by providing access to our oral health services on Saturdays! Thanks to our extended office hours, we can more easily bring in people who might struggle to see someone at a time that works for them. As a result, they can more easily keep up with their smile care needs, and more easily protect themselves against difficulties with their oral health.
Are You Past Due For Dental Care?
If you have not seen your dentist at any point in the last six months, you should make your next appointment a priority. Your oral health benefits from checkups that take place semiannually. At these visits, you receive helpful cleanings that will remove plaque and tartar buildup from your smile, lowering your risk for future problems. You also have access to thorough reviews of your teeth and gums, which can lead to the early detection and treatment of problems that require treatment. If you have struggled to find office hours that work for you, know that our practice is here for you if you want to set up an appointment on a Saturday!
Our Saturday Dental Office Hours Make Treatments Easier To Arrange
By extending our office hours into Saturday, we can make it easier for our patients to visit us for different services. You can more easily keep up with your routine oral health care when you know that you have time for a checkup on a weekend. You can also have an easier time making plans to see someone about an active problem with your oral health. Remember that our extended availability is not all that we do to be more available. We also provide emergency oral health services to help patients keep up with smile care.
Sticking To Good Oral Hygiene Habits
In between your dental checkups and cleanings, make sure you do your part to protect your smile. Take the time to brush and floss every day; brushing should take place two times each day, and you should give yourself at least two minutes to reach every area of your smile. Take care to also protect yourself by limiting your intake of sugary foods and drinks.
Talk To Sunny Smiles About Setting Dental Appointments On Saturdays
Because our office hours extend to Saturdays, we can help patients who might have a harder time keeping up with their smile care needs. If you are someone who wants to make an appointment for general care, or if you have any active concerns about your well-being, contact your El Paso, TX, dentists by calling our practice at 915-849-9000.