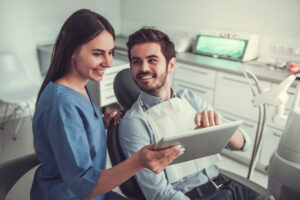 If you fall behind on your regular dental exams due to your busy schedule, you can find yourself more vulnerable to problems that threaten your smile. As a result, you may find yourself in need of an appointment to discuss active oral health issues that you could have avoided! Sunny Smiles makes it easier for people to schedule visits by offering dental appointments on Saturdays. We understand that oral health services, while important, are sometimes harder to arrange. This greater availability makes it easier for you to set up future visits and stay on top of your smile care needs.
We Make Dental Care More Accessible With Saturday Appointments
For patients who have a hard time finding room in their schedule for weekday dental visits, we do make our services available on Saturdays. By doing so, we can make it easier for you to set up routine preventive services, or to schedule restorative treatment for active problems. When it comes to regular dental exams, timely care will help you to consistently keep your smile safe from problems like dental decay and gum disease. Prompt care for a possible oral health issue will lower your risk for the kinds of complications that change how we have to treat problems.
How Regular Exams And Cleanings Help You Stay Healthy
During your regular dental exams and cleanings, you can prevent the onset of issues like tooth decay and gum disease. You can also receive timely warnings when they affect you, which can lead to earlier interventions. Your regular dental cleanings fight the accumulation of plaque and tartar that can make problems difficult for you to avoid. During your review, your dentist looks to see if there are any issues with cavities that should be addressed, or if you need help managing your periodontal health.
Need To See Someone On Short Notice? We Also Offer Emergency Appointments
In addition to making it easier to set up general visits at our practice, we want our patients to know that they can see us on short notice in the event that they experience a dental emergency. The availability of care on short notice means you can receive attention sooner if you have problems with tooth pain, a physical injury, or even issues with a tooth that is loose or lost. Because our treatment options include services that provide cosmetic as well as oral health benefits, we can proceed with care without making you nervous about losing confidence in your smile.
Talk To Sunny Smiles About Scheduling A Dental Appointment On A Saturday
Because our office makes appointments available on Saturdays, we can make it easier for our patients to see us on short notice! If you would like to find out more about how we can help you, please contact your El Paso, TX, dentists by calling our practice at 915-849-9000.