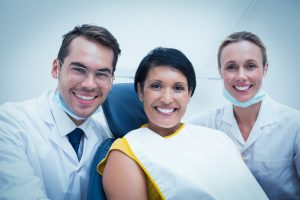 In the course of your typical week, you can find it hard to find any room in your schedule for extra appointments of any kind. When it comes to smile care, putting off an appointment can certainly be a mistake, as you can find yourself more vulnerable to problems with your teeth and gums. What can you do to find time for care? At Sunny Smiles, we offer appointments on Saturdays as well as during the week. The ability to set up a visit on a weekend will help you make time for the support you need to maintain a healthy and confident smile!

Do You Have Time For Dental Care During The Week?
Weekdays can be busy for many reasons. Professional and family obligations can certainly keep you occupied, but a lack of time for dental care does not protect you against the kinds of problems that threaten our smiles! If you are missing out on regular dental appointments, you are more likely to experience cavities and gum disease. Someone who puts off an appointment to discuss an active problem with tooth pain or sensitivity can ignore a potentially serious cavity, one that can have more consequences for your oral health than you expect.
Setting Up Oral Health Services On Saturdays
Saturday office hours offer convenient access to those who have a difficult time seeing their dentist. By offering a more convenient schedule for our patients, we can help those who feel they are not able to see professionals with ease can appreciate this, as it can become easier to protect both your teeth and gums. Of course, we are also here if a problem arises. In fact, we can even make time to see you if you need to do something about a potentially urgent oral health issue!
The Importance Of Regularly Scheduling Dental Services
While it is easy for people to see why they should not ignore active symptoms of poor dental health, it is important that you also recognize the importance of consistently scheduling dental exams. At every appointment, you receive care to reduce your risk for future cavities or problems with gum disease. You also learn when you have trouble with your oral health that will require care. When a problem is caught early, it can be addressed before there are complications to contend with.
Talk To Sunny Smiles About Our Saturday Office Hours!
The weekday can be a difficult time to arrange care. At Sunny Smiles, people seeking treatment in the El Paso, TX area can reach out to us to arrange care on Saturdays! This is one of many efforts we make to provide a more convenient experience with smile care. If you have questions or would like to find out more, please reach out to Sunny Smiles in El Paso, TX by calling 915-859-7000.