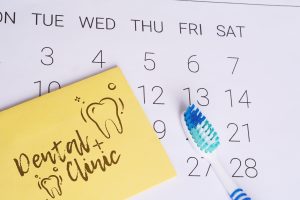 You may assume that dental care is something you only have access to during the weekdays. While many practices keep more conventional office hours, Sunny Smiles can help you find time for treatment that better fits your schedule. In addition to operating Monday through Friday, we make time for our patients on Saturdays as part of our regular operation. With access to Saturday appointments, people who often struggle to make time for their smile can more easily arrange important care. Remember that without access to routine dental exams, you lose out on important protection, which means you can be more vulnerable to problems that will hurt your appearance and health.
Finding Time For Dental Care Is Important
Just two routine dental visits a year are typically all that you need to schedule in order to stay current with your oral health. Unfortunately, people can struggle to find openings in their schedule to make sure they have access to this support. If you miss out on preventive care, you face more risks for tooth decay as well as gum disease. You also lose out on protection against tartar accumulation. One way we make services more accessible is by keeping our office doors open on Saturdays, which gives patients the opportunity to see someone outside of the typical working week.
Scheduling Your Routine Dental Exams And Cleanings
Routine dental exams and cleanings provide an important line of defense between your smile and threats like dental decay and gum disease. At every appointment, you will be closely evaluated for any evidence of problems that might require our services. If an issue with a cavity is identified, we can provide a dental filling before there are complications. We can also take care of you by providing a deep cleaning to fight gingivitis and return your gums to good health. Even if you have no active problems, visits help you because they remove tartar buildup, something that you cannot do by yourself.
Setting An Appointment To Address An Oral Health Issue
We can make time to see you if you are struggling with the symptoms of a possible oral health issue. The chance to see your dentist without delay lowers your risk for complications that can negatively impact your well-being. We should note that in addition to maintaining Saturday office hours, we provide emergency dental services when serious problems arise.
Sunny Smiles Offers Dental Appointments On Saturdays!
Sunny Smiles is ready to see people in and around the El Paso area who require oral health care. Whether you need a routine checkup or treatment for an active problem, we are here to help. We can even take care of you on a Saturday! To find out more, contact your El Paso, TX, dentists' office on N Zaragoza Rd by calling us at 915-849-9000.