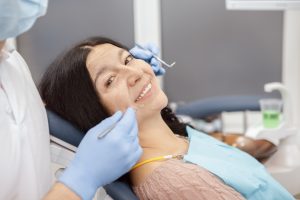 Finding time during the week for different tasks, even important ones, can sometimes be daunting. Unfortunately, when it comes to dental care, that can mean delaying valuable preventive services. At Sunny Smiles, we actually make our services easier to access by providing Saturday office hours! Because we do this, we can meet with patients who struggle to find time outside their typical routine for different services. At your appointment, you can talk to your dentist about any oral health or smile concerns you have, and you can receive a thorough cleaning and evaluation to protect your teeth and gums.
Are You Struggling To Make Time For Dental Care?
People who recognize the importance of routine dental care sometimes put off services simply because they feel they have no time to schedule them. Unless you are told to do something else by your dentist, your preventive oral hygiene efforts should include semiannual dental checkups and cleanings. When these appointments are postponed or canceled, you lose out on protection against tartar buildup and the chance to have cavity issues or trouble with gingivitis addressed in their earlier stages.
How Regular Services Benefit You
At every routine dental exam, you undergo a teeth cleaning as well as a careful evaluation to see if there are any problems that need to be addressed. Tooth decay and gum disease are two significant concerns, but they are not the only matters that we can address. We also discuss issues like TMJ disorder and bruxism, which can lead to persistent pain and sensitivity over time. These visits also provide opportunities for you to ask questions that you may have about your oral health, or about what you can do to positively change your smile.
We Also Make Treatment More Convenient By Providing Emergency Services
Sometimes, patients need time with their dentist as soon as possible. Our Saturday hours are not the only convenient service we offer the people who see us. When necessary, patients can reach out to us to arrange emergency dental services. This can be especially important after a tooth is broken or knocked out, as you can have only a limited time before the injury results in the permanent loss of your tooth!
You Can Schedule A Dental Visit On A Saturday At Sunny Smiles!
Our Saturday office hours make it possible for us to see patients who might have a difficult time scheduling treatments during the weekdays. We want to ensure that people in and around our community have access to reliable services when it comes to regular care, just as we are ready to make ourselves available to patients who experience smile trouble that might call for an urgent appointment. To find out more about how we can take care of you, contact your El Paso, TX, dentists' office on N Zaragoza Rd by calling us at 915-849-9000.