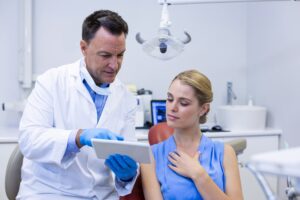 There are many reasons why you should see your dentist for a regular checkup, even when you feel certain that you have no smile problems to worry over. At these appointments, Sunny Smiles provides important feedback that concerns your dental and periodontal health. We can also provide updates about your jaw health, as well as warnings about signs of teeth grinding and clenching. You also receive a thorough teeth cleaning to help you remain safe from problems until your next appointment. Sometimes, patients who come in with no concerns about their smile can learn that they actually do need restorative treatment—when a problem is caught early, it can be treated before you become vulnerable to complications.
Are You Due For Your Next Routine Visit?
Unless your dentist tells you to work with a different schedule, you should schedule routine dental care every six months. By sticking to planned semiannual appointments, we can help you stay informed about your oral health and smile, and we can provide ongoing support to help you prevent any new issues from occurring. People who postpone or skip their appointments are more likely to experience trouble with their smile, and they are also more likely to experience complications from problems that form and worsen before they are aware they need treatment.
Regular Checkups Provide Warnings About More Than Just Cavities
While dental decay is not a problem to take lightly, you should remember that cavity prevention is not the only benefit to preventive care. During appointments, your dentist will look out for issues with your periodontal health, wear and tear on your enamel, signs of poor jaw movement, and any other issues that might impact your appearance and well-being. Based on what we see when we perform a review, we can talk to patients about the care that they might need. The good news is that timely services can reduce your risk for experiencing complications.
How Teeth Cleanings Preserve Your Oral Health
Remember that your regular teeth cleanings are also important to your well-being. Through the removal of harmful plaque and tartar buildup, we make you less likely to experience dental or periodontal problems. Tartar removal is something you need from your hygienist, as your brushing and flossing will not be effective at removing deposits that already exist. With that said, you effectively reduce your risk for experiencing tartar buildup when you keep up with good oral hygiene at home.
Talk To Sunny Smiles About Scheduling Your Next Dental Checkup
If you have not done so already, make sure that your next dental checkup is scheduled. To make your routine appointment or discuss any other service that we can provide, contact our Sunny Smiles location on Dyer St in El Paso, TX by calling 915-859-7000.