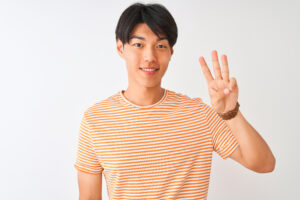 Are you really doing all that you can to protect your smile? At-home oral hygiene efforts are important, but they should not be all that you rely on to keep your teeth and gums in good condition. You should also take advantage of the care that is provided to you during a routine dental exam and cleaning. Patients who come to Sunny Smiles for preventive services can count on effective support against different oral health threats. At each appointment, your teeth will be evaluated closely and cleaned thoroughly. Cleanings remove harmful plaque and tartar buildup, while reviews give you valuable feedback about the state of your smile. If we identify trouble during a visit, we can make sure it is resolved before there are complications.
1. Your Teeth Are Professionally Cleaned At Every Routine Visit
Every time you visit your dentist for routine care, your hygienist will take the time to thoroughly clean your smile. By doing so, they remove both plaque and tartar deposits that have accumulated between this visit and the last one that you scheduled. Even if you take pride in your approach to brushing and flossing, professional teeth cleanings play a valuable role in protecting you from trouble with oral bacteria. The longer you go between appointments, the more likely you are to have issues with plaque and tartar, and the more likely it is that these deposits will lead to problems for your oral health.
2. Problems With Your Smile Can Be Identified And Treated Early
You can reduce your risk for problems that require restorative dental work when you keep up with good oral hygiene efforts at home and through regular oral health appointments. With that said, problems can still occur between these visits. When they do, they can be caught and treated early so that you are less likely to experience complications. For example, if you have a cavity caught during a normal appointment, you can have a dental filling put in place to restore your tooth once that cavity is removed. However, when you go longer between your appointments, you can have more physical damage from decay, which means you can find yourself in need of a dental crown, which covers more space and costs you more of your tooth structure.
3. You Receive Help With More Than Just Dental Decay
Dental decay is a common threat, and it is one that you should not take lightly. With that said, it is just one problem of several that can affect your smile. When your dentist evaluates you, the feedback you receive can address problems with the health of your teeth as well as your gums and oral structures. You can also receive helpful information on the quality and condition of your bite.
Talk To Sunny Smiles About Scheduling Your Next Dental Checkup
If you are past due for your next dental checkup, our practice is ready to help! If you would like to learn more, reach out to our Sunny Smiles location on Dyer St in El Paso, TX by calling 915-859-7000.