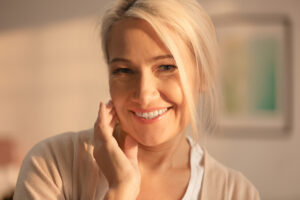 There are different reasons why some people feel a reluctance to show off their smile. While you may have reasons that differ from another person's, you should know that the right cosmetic treatment can help you. What may surprise you is learning that there are cosmetic services that are effective at addressing a range of issues, which means people with different priorities can see positive results from the same service. Sunny Smiles is happy to help you understand what cosmetic dental work can do for you. In addition to providing services that focus on making meaningful smile changes, we can also step in and take care of you when problems that affect your oral health need to be treated.
Are You Ready To Show Off A More Attractive Smile?
You may be closer than you currently realize to having a smile that you are eager to show off to the world. Even if there are several issues that you have with the appearance of your teeth, we can discuss an approach to cosmetic treatment that addresses all of your worries in just one procedure! Because of this, we can help people even when they feel that their ideal smile is out of reach. We can recommend care based both on what you want to change about your smile and your potential concerns about what services will involve.
Planning Your Cosmetic Dental Work
Based on your goals and concerns regarding cosmetic dental treatment, we can recommend an effective treatment approach. One procedure we can recommend involves the placement of porcelain veneers, thin but durable shells that manage to make dramatic changes to the way a person looks. With this approach or with a bonding and contouring treatment, we can hide concerns about discoloration, dental damage, poor spacing, and more!
Preserving Your Smile After Treatment
Keeping up with smile care is important, as it helps you avoid the oral health threats that make different restorative services necessary. Maintaining good habits after a cosmetic procedure can help with this as well as the preservation of your improved smile. Whether you had your appearance improved with porcelain veneers or chose to focus on the removal of enamel stains, good preventive care at home and regular dental visits will help you preserve the look and health of your teeth.
Talk To Sunny Smiles About The Cosmetic Services Available To You!
Because we offer several cosmetic dental services, our practice is prepared to help patients who have questions or concerns about their appearance as well as their oral health. With as little as one treatment, we can help you see remarkable changes in your appearance! If you would like to find out more, reach out to your El Paso, TX, dentists by calling our N Zaragoza Rd practice at 915-849-9000.