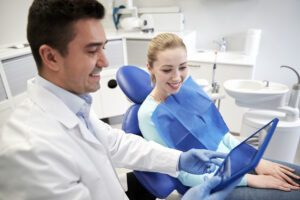 If you want to avoid the kinds of problems that negatively affect your oral health and appearance, you should make good oral hygiene a priority. On a daily basis, you should put in time and effort to brush and floss thoroughly enough to keep plaque buildup from accumulating and calcifying into tartar. On a semiannual basis, you can count on extra help when it comes to fighting the harmful gathering of bacteria and food debris. At your regular teeth cleanings and examinations, you enjoy important support in the fight against oral health threats. Sunny Smiles is here to help people of all ages in the El Paso area protect their teeth and gums by providing consistent preventive care!
Teeth Cleanings And Exams Should Be Arranged On A Consistent Basis
Unless your dentist recommends that you follow a different timeline, your plan should be to go in for routine oral health care every six months. Your preventive dental appointments can provide important feedback as well as protection through the removal of plaque and tartar deposits. Both cleanings and exams have benefits for you in the long term. With cleanings, you reduce your risk for problems with your smile that can occur over time. Reviews by your dentist can result in the early detection and treatment of a problem through restorative dental work—timely care will ensure that your issue is resolved before there are complications that change the treatment you require.
What To Expect At Your Next Routine Appointment
At your next visit, there are several services to look forward to. As your hygienist takes care of your smile, they will work to locate and remove any deposits of plaque or tartar that are present. In addition to removing harmful debris, they can point out areas where you may need to take more care in targeting so that you can better fight oral bacteria. As your dentist evaluates you, the feedback you receive concerns your teeth and gums, along with warnings about signs of poor jaw movement and pain linked to TMJ disorder.
When we visit with younger patients, we can adjust our services to provide the right support for their well-being. Pediatric dental exams focus on education and guidance, and during their earliest visits, kids are also given a gentle introduction to both our practice and services to make them feel comfortable.
Talk To Sunny Smiles About Scheduling A Teeth Cleaning
By scheduling consistent teeth cleanings as part of your commitment to smile care, we can help you maintain teeth that are attractive and in great health! If you need to schedule your next visit, or if you have any questions about our services, reach out to our Sunny Smiles location on Dyer St in El Paso, TX by calling 915-859-7000.