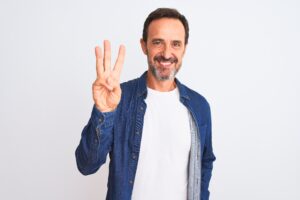 There are benefits to regular teeth cleanings and examinations that you should not overlook. Without consistent preventive appointments with your dentist, your smile loses out on protection that will help you difficulties like tooth decay and gum disease. Because these visits also provide detailed evaluations and feedback from your dentist, they provide more than just protection against future issues. They also give you timely warnings when problems are in need of attention. Sunny Smiles is proud to help people of all ages take consistent care of their teeth and gums. Because we are able to take care of kids as well as adults, we can make sure El Paso area households have their oral health needs fully met during visits!
1. You Need Help Controlling Tartar Buildup
Tartar needs to be dealt with if you want to maintain a healthy smile. Unfortunately, it can prove difficult to manage its buildup when you only care for your teeth at home. Brushing and flossing help you stop the material from forming, but it will not prove as effective when it comes to removing deposits that are already present.
2. Professional Cleanings Control Your Risk For Gum Disease As Well As Cavities
Dental decay is something you certainly want to avoid, but it is hardly the only threat to your oral health that you should be aware of if you want to maintain a truly healthy smile. During your regular dental cleanings, you can also enjoy protection against gum disease. Problems with your periodontal health are not to be taken lightly, as complications from an infection can have a negative impact by causing tooth loss, and by making you more vulnerable to further physical problems.
3. Feedback After You Cleaning Can Help You Improve Your At-Home Hygiene Routine
When your hygienist points out areas where more tartar and plaque buildup were found, it indicates an area that does not receive enough attention when you brush and floss. By taking feedback from your routine cleanings and incorporating it into your daily efforts, you can more easily protect yourself against future problems. This kind of guidance can be effective for patients at any age. For kids, lessons during pediatric smile care help them form good habits. For adults, pointing out shortcomings in a routine can be helpful because we can become too comfortable in our habits, and not attentive enough to shortcomings.
Talk To Sunny Smiles To Schedule Your Next Dental Cleaning
If your next dental cleaning is not scheduled yet, make sure you have your next appointment set as soon as possible! Sunny Smiles is ready to provide important ongoing care to patients of all ages in and around the El Paso community. To find out more, contact your El Paso, TX, dentists by calling our N Zaragoza Rd location at 915-849-9000.