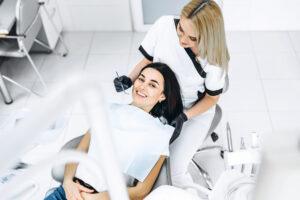 If your next dental cleaning and exam is not scheduled, you should make sure to arrange it as soon as possible, especially if you have gone more than six months since your last appointment. The care we provide during a routine appointment will help you avoid potentially serious problems, as they provide protection as well as early warnings when there are issues that need to be treated. Sunny Smiles can help you stay safe against cavities and gum disease. Cleanings help with this because they remove tartar buildup, something you cannot fight on your own. They also help because they can highlight areas where your brushing and flossing routine provide less support.
Good Oral Hygiene Calls For More Than Just Daily Brushing And Flossing
Daily behaviors certainly contribute to your oral health. By making sensible dieting choices, brushing thoroughly twice a day, and flossing every evening, you fight bacteria buildup and lower your risk for problems with dental decay and gum disease. As important as these actions are, you should know that you can—and should—also rely on the help of your dentist to prevent issues with your teeth and periodontal health. At every dental checkup and cleaning, you are protected against potential threats from tartar and plaque buildup. You also receive early warnings about problems that can be treated in the office.
How Your Regular Teeth Cleanings Protect Your Smile
Whenever tartar deposits form on our teeth, they can create problems with our oral health and appearance. If these deposits are regularly dealt with through teeth cleanings, they are less likely to impact your health and smile. Every six months, you should see your hygienist to have this substance removed. In addition to removing tartar, they can also fight plaque buildup and remove food debris. The feedback they provide can let you know where you need to take more care to clean on a daily basis.
More Benefits To Your Regular Dental Visits
Regular reviews from your dentist will let you know when there are problems that require more than just routine services. If you have problems with gingivitis, we can recommend a more involved cleaning than the one that we typically provide. If you have issues with dental decay, we can provide restorative dental work that both stops further harm and restores the health and appearance of your tooth.
Set Your Next Dental Cleaning And Exam At Sunny Smiles!
If you want to stay consistent with smile care, you should make sure you are in the dentist's chair on a consistent basis for a teeth cleaning and exam. To find out more about the benefits of these appointments, or to make sure your next visit is set, please contact your El Paso, TX, dentists by calling our practice at 915-849-9000.