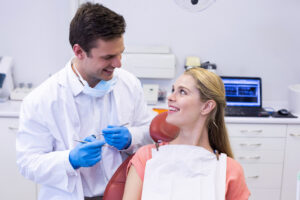 The preservation of your smile helps you maintain confidence in your appearance, and it has important benefits for your well-being. As important as it is to keep up with dental care at home, you should also make regular trips to see your dentist for general checkups and cleanings. Sunny Smiles provides preventive services to people of all ages in the El Paso area. These appointments keep you aware of problems like cavities and gum disease, and they provide cleanings that remove the deposits of plaque and tartar that can leave you vulnerable to future issues.
Your General Dental Visits Help You Avoid Problems With Your Oral Health And Appearance
You should make time to see your dentist every six months for general care. At these regular appointments, you receive support to keep you defended against the onset of gum disease and tooth decay. They also lead to the early detection and treatment of problems that are already present but not yet causing discomfort. People of all ages can benefit from these services. To make care more accessible to families, we offer services for adults as well as pediatric dental appointments for kids.
How Regular Checkups Help You Control Your Risks For Dental Trouble
Every time your dentist evaluates your smile, you can receive helpful feedback concerning the state of your enamel, and of your periodontal tissues. Problems can develop before you start to feel discomfort; with early warnings, you can receive care before you have to deal with discomfort and complications. You also pick up feedback on other issues, such as difficulty with jaw pain and stiffness from alignment issues.
As important as it is to receive updates about your oral health, your appointments also provide care in the form of detailed teeth cleanings. By removing plaque and tartar that have accumulated, your hygienist makes you better protected against future trouble with your oral health.
Services We Can Provide When Problems Are Identified
When it is needed, we are prepared to provide restorative dental work. Treatment for a cavity includes both the removal of infected tissues and the placement of a permanent restoration for protection. Both dental fillings and dental crowns that we provide are able to preserve your health as well as your appearance, so you will not have to worry about how care affects your smile.
Talk To Sunny Smiles To Schedule Your Next General Dental Visit
Through general dental appointments, we help people in and around our community avoid trouble with their oral health. Along with smile care at home, these visits have important long-term benefits for your appearance as well as your well-being! If you would like to set up an appointment, please reach out to our Sunny Smiles location on Dyer St in El Paso, TX by calling 915-859-7000.