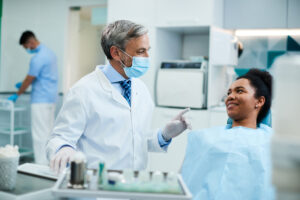 If you want to preserve both your oral health and appearance, you should be consistent about both daily care and regular appointments with your dentist. General dentistry provides important support over time, which will lower your risks for problems like dental decay, gum disease, and any other problems that can be identified during a review. Because your visits also include teeth cleanings, these appointments also make you less likely to experience difficulties in the future. Sunny Smiles provides valuable dental care for families in and around El Paso, TX, as we can care for adults and also provide pediatric dental services.
How Dental Exams Fit Into Your Oral Health Routine
A consistent oral hygiene routine gives your smile daily protection against the accumulation of bacteria and food debris. Brushing and flossing thoroughly will provide a defense against dental and periodontal problems that make treatment from your dentist necessary. Good habits can make you less likely to need restorative dental work, but you should still stay consistent with regular dental exams and cleanings. These appointments provide beneficial updates about your well-being as well as cleanings to better protect your smile.
Arranging A Dental Checkup And Cleaning
Dental exams and cleanings should take place every six months. On a semiannual basis, these preventive visits provide protection that can help you maintain both the health and appearance of your smile. Going too long without visits makes you more likely to deal with tartar buildup, problems with dental decay, and gum disease. You also face the risk of these issues both developing and worsening without intervention, leading to complications that require more involved treatment.
We Can Also Help Your Kids Maintain Their Oral Health
Professional dental visits are important for both kids and adults. Because our practice provides support for patients of all ages, we provide one convenient location for families in and around El Paso. For younger children, early pediatric dental visits provide an important introduction to oral health care. These visits can establish the importance of good dental health while they also help kids feel at ease in the dentist's chair. As they age, our younger patients can enjoy more conventional preventive services as well as additional support to keep them better protected against cavities.
Schedule Your Next General Dental Visit At Sunny Smiles!
General dentistry provides an important line of defense for your smile, one that will lower your risk for problems like tooth decay, gum disease, and more! Our practice is here to provide valuable ongoing care for families, so patients of all ages can more easily maintain healthy, attractive smiles. If you would like to find out more about how we can help you, please reach out to Sunny Smiles in El Paso, TX by calling 915-859-7000.