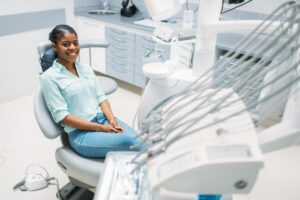 Finding reliable general dental care makes it easier for you to sustain a smile that is healthy and attractive. At Sunny Smiles, we are happy to provide important support for patients of all ages, which makes it easier for families to keep up with their different needs. Regular checkups and cleanings give you a level of support that will help you defend yourself against different oral health threats, and they can provide timely warnings if problems do arise. While the support for your dental well-being is important, you should know that our practice is also happy to provide treatment options if you are interested in cosmetic dentistry!
We Help Patients Of All Ages Maintain Healthy Smiles
Because we provide general dental exams and cleanings for adults as well as pediatric dental services, we can make smile care easier for households to arrange. Starting dental checkups at an early age will help your kids feel at ease during future visits. We provide gentle exams for our youngest patients, and can make them feel comfortable as they transition to more traditional preventive services. For adults, we provide consistent checkups and cleanings that help them avoid trouble with dental decay, gum disease, and more!
Taking Care Of Active Oral Health Problems
When necessary, our practice is ready to provide restorative dental work to address problems like cavities and injuries that affect tooth structure. Because we provide dental fillings and dental crowns that match your healthy enamel, we can provide care that takes care of your smile and oral health. If it is needed, we can even provide root canal therapy in order to address concerns about severe cavities or internal problems.
Can You Discuss Cosmetic Dental Work With Your General Dentist?
Your general dentist is here to help when you have problems with your well-being, but you can also take on issues with your smile through cosmetic dental work! We provide treatment options that can change your tooth shape and size, and we can target problems that cause discoloration. Cosmetic care makes desirable changes while only requiring conservative care. With treatment options like porcelain veneers, you can have an easier time preserving the results of your care, as these slender restorations are made from a strong material that can hold up against years of friction from biting and chewing.
Take Advantage Of Smile Care Provided By Sunny Smiles!
The services we provide at our practice can take on many different issues with your smile and oral health. Because we offer services to patients of all ages, we can make access to consistent support easier for entire families. If you would like to learn more, or if you are interested in scheduling an appointment, please reach out to Sunny Smiles in El Paso, TX by calling 915-859-7000.