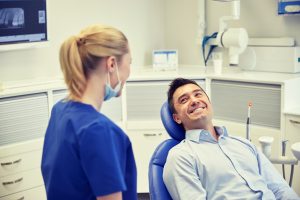 Is your smile as safe as it should be from oral health problems? By visiting a general dentist on a regular basis, you can receive updates that either reassure you that you have no problems, or alert you to the warning signs of trouble that need to be addressed. Sunny Smiles provides general dentistry for families in and around El Paso, which means you can enjoy important care for everyone in your household. In addition to providing preventive services in the form of routine teeth cleanings and exams, we offer different services to address problems with dental decay, gum disease, and even difficulties with chronic jaw pain and stiffness.
The Importance Of Regularly Visiting Your General Dentist
Going without dental checkups and cleanings will make you more vulnerable to serious oral health troubles. Whenever you come to us for a review, we check your teeth, gums, and oral structures for any concerning signs and symptoms. Children benefit from these reviews, too, but pediatric dental checkups also provide helpful instruction to young patients. This helps them learn to practice good oral hygiene on their own, which helps them sustain healthy smiles as they age.
What To Expect At A Typical Exam And Cleaning
Both your teeth cleaning and your examination are important to your overall preventive care. When we clean your teeth, we remove harmful tartar buildup as well as plaque deposits that are found on your enamel. Clearing away the harmful accumulation of these materials will help you stay healthy over time. When we see signs of gingivitis, we can even perform a deeper cleaning to remove bacteria that create problems for your periodontal tissues. During a review, we can look out for cavities, but we can also discuss any other evidence of poor health that concern us. For example, we may observe wear and tear on your enamel from teeth grinding, or notice problems with jaw movement that suggest an issue with TMJ disorder.
We Can Provide Care For Problem Identified At An Exam
If something is wrong with your oral health, we identify and address the problem through restorative dental services that preserve your appearance. Whether you need a dental filling or a dental crown because of a cavity, we can do the necessary work with a restoration that matches your tooth structure. For jaw problems, we can discuss care with an oral appliance to provide relief.
Sunny Smiles Provides General Dental Services In The El Paso, TX Area!
General dental services keep you informed about the health of your smile, and they alert you to problems that may arise and require timely treatment. Sunny Smiles provides these services to patients of all ages in and around the El Paso community, and we are ready to see you and provide important ongoing support for your teeth and gums. If you have questions or want to know more about our practice, please reach out to Sunny Smiles in El Paso, TX by calling 915-859-7000.