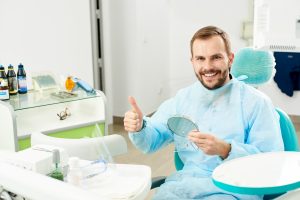 What are you doing to make sure your smile is safe from problems with tooth decay and gum disease? To effectively maintain your oral health, you should rely on both good daily behaviors and your general dental exams. Patients at Sunny Smiles can look forward to consistent support during every routine visit. We provide care to help you avoid problems that oral bacteria cause, and we provide early intervention and treatment whenever something is wrong. Our practice is here to provide general dentistry for kids and adults in the El Paso area, making us a reliable practice for families who want to make sure everyone in their households are receiving the right support.
Are You Taking Advantage Of General Dental Services?
Through preventive dentistry, you can have an easier time controlling your risk for problems with cavities and gum disease, and you can receive helpful intervention if a problem with your bite function is causing you discomfort. At your regular dental appointment, you will undergo both an examination and a teeth cleaning. Cleanings remove tartar buildup, which will lower your risk for problems that can occur over time. This service also helps you avoid embarrassment caused by visible deposits that can hurt your smile. As your dentist examines you, they can alert you to the need for restorative work, or they can point out the need for you to undergo a cleaning that targets bacteria causing gingivitis.
What Routine Services Do To Protect You
During your regular reviews, your dentist will look for any cavities that require treatment, and they will also look out for evidence of gum disease. Gum disease is reversible if it is caught in time; if you have symptoms of gingivitis, we can perform a deep cleaning to remove microbes from below your gums that negatively affect you. Through timely intervention, we can treat a cavity with a dental filling before you have to worry about an infection of your tooth. Other problems, like TMJ disorder, can also be discussed and treated if necessary.
We Provide Care For Kids And Adults!
Our office is here to help more than just our adult patients, as we also provide pediatric oral health services. Dental visits at an early age help kids become comfortable with the idea of oral health care. These visits also provide an opportunity to educate children on how they can take care of their teeth on their own, which can make them more likely to maintain good habits into and through adulthood.
Schedule General Dental Services At Sunny Smiles!
Through your general dental appointments, you receive important protection as well as early warnings and treatments for oral health problems. To find out more about our services, please contact Sunny Smiles in El Paso, TX by calling 915-859-7000.