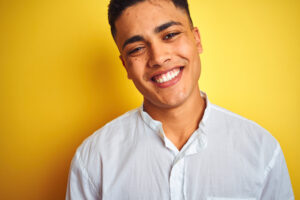 There are different measures you should take to keep your smile safe from harm. They include both at-home hygiene efforts and trips to see your dentist for routine services, as these combined efforts provide considerable protection against dental decay, gum disease, and more. Unfortunately, even when you practice good habits regularly, you can have trouble with cavities, a common oral health threat. Sunny Smiles is prepared to help in these situations by providing treatments that protect your tooth structure and also provide a good visual match for it. With a lifelike dental filling, we can permanently support a tooth without making an unwanted change to its appearance.
Teeth Suffer Permanent Damage From Cavities
The unfortunate reality of tooth decay is that it will permanently harm your enamel. Catching a cavity early helps you because it limits that overall damage, but it will not prevent it entirely. What can you do to preserve your oral health when this harm occurs? Through the right restorative dental treatment, we can make sure that your issues with dental damage are completely harmed. A dental filling is the more conservative treatment option, one that only covers a portion of your enamel while leaving the remaining structure unchanged.
Supporting Your Vulnerable Tooth With A Lifelike Filling
We can provide dental fillings in just one appointment, so you will not have to go through an annoying waiting period to have your care completed. A filling provided at our office will actually match your enamel, so it will avoid detection. The material we use also bonds to your tooth structure to make sure that it remains in place and does not leave you vulnerable to damage or a new infection.
What We Can Do To Address Severe Decay
When it is called for, we can provide restorative dental work that offers more than just treatment with a custom filling. If your tooth requires more protection, we can cover it with a custom dental crown. A crown will provide permanent protection as well as functional support. There are different material types, including substances that can match the look of your tooth. Crowns are used in treatment whenever cavities cause infections, which have to be addressed through root canal therapy.
Talk To Sunny Smiles About Treating Your Cavity With A Lifelike Dental Filling
Through treatment with a lifelike dental filling, you can make sure that your tooth is protected without making unwanted changes to your appearance. This is one of many services that we can provide when you experience oral health issues. Remember that we can also provide important preventive treatments that make you less likely to have the kinds of problems that require treatment. If you would like to find out more about how we can help you, reach out to your El Paso, TX, dentists by calling our practice at 915-849-9000.