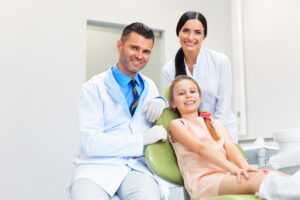 As your child grows up, their smile and oral structures will change and mature. As wonderful as it can be to watch how their smile develops, they will need help developing a good commitment to oral hygiene to properly protect it. Parents certainly play a valuable role in the formation of their hygiene habits, but remember that kids also benefit from regularly seeing their dentist. Sunny Smiles can provide important pediatric dental services every time kids come in for support. From providing a welcome introduction to smile care to offering support as they learn to care for their teeth and gums on their own, the right dentist offers significant support for younger patients. Because we provide care for people of all ages, we can make all of your family's oral health services easier to arrange by welcoming everyone in your household for treatment.
How Do You Keep Your Kids Safe From Cavities?
Once our teeth start to erupt, we become vulnerable to cavities. While your oral hygiene routine has been formed and refined over many years, smile care is new to young children. At first, they need their parents' help to keep safe from dental decay. Even after they reach an age where they can brush and floss on their own, they can depend on you for guidance. As important as you are in protecting them, remember that they should also have a dentist they can count on. Our practice is here to help with this, as we can offer young children a warm introduction to smile care, and we can keep up with your child's needs as they grow!
The Role Pediatric Dental Visits Play In Helping Kids Maintain Healthy Teeth
During their first few appointments, young children receive gentle visual evaluations to see how their development is progressing. While these appointments take place, you can bring up questions that you might have about helping your child keep their teeth in great shape. As they age into more thorough pediatric preventive dental appointments, we can provide careful cleanings and reviews as we offer guidance to kids on the importance of smile care. When needed, we can step in and provide restorative dental work to address active problems before they become more complicated.
Schedule Dental Care For Your Kids At Sunny Smiles!
Through the right access to dental care, kids gain an important introduction to oral health support, and you can help make sure they continue to take smile care seriously as they grow up. Because we can provide smile care to people of all ages, we can help make sure that everyone in your household is enjoying quality care on a consistent basis. If you would like to find out more, reach out to our Sunny Smiles location on Dyer St in El Paso, TX by calling 915-859-7000.