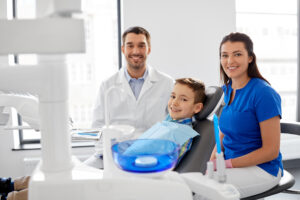 When you find one dental office that can take care of everyone in your family, you can have an easier time setting up appointments and keeping up with everyone's oral health. Sunny Smiles makes it easier for El Paso families to find reliable smile support. Our practice welcomes people of all ages, and we can make sure they have the right experience that caters to their needs. For kids, pediatric dental visits are both an opportunity for in-office smile care as well as support to help them develop better habits at home. Adults continue to benefit from their regular appointments, which help to control risks for tooth decay, gum disease, and more.
Can Everyone In Your Household Rely On The Same Dental Office?
If you can schedule everyone's oral health appointments at one location, you can have an easier time keeping up with everyone's visits. With that said, convenience is just one reason to look for an all-ages practice. You can also demonstrate to your kids that they should feel comfortable in the dentist's chair, as they can watch you go in for your own appointment. You can also have one practice to take them to as they age, so they can continue to enjoy reliable and familiar support. You can receive helpful updates about their dental well-being while you enjoy your own dental services.
Scheduling Pediatric Dental Services
From the time that they start their pediatric dental exams, we can help kids feel comfortable in the dentist's office. At their initial appointments, we can focus on gentle evaluations as we help kids feel at ease with treatment. Once they are old enough, they can enjoy the kind of preventive care that adult patients enjoy. With that said, there are additional efforts that we undertake to help kids protect their smiles at home.
Why You Should Also Make Your Dental Checkups A Priority
Even if you have a consistent oral hygiene routine in place, you can have difficulty protecting yourself against oral health threats like tooth decay and gum disease if you go without your own dental exams and cleanings. Your cleanings provide important support because they remove tartar buildup that you cannot take care of on your own. Evaluations can provide you with helpful warnings about any problems that threaten your well-being, which can lead to treatment before there are complications.
Talk To Sunny Smiles About Dental Care For You And Your Kids
By bringing your family in for smile care at Sunny Smiles, you can make sure your household enjoys needed protection against different oral health threats. If you would like to find out more, or if you would like to set up an appointment, contact your El Paso, TX, dentists by calling our practice at 915-849-9000.