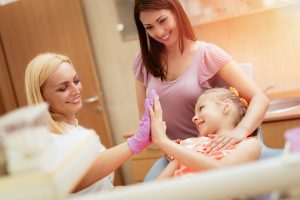 Whether they are still young enough to need your direct support or old enough to clean their teeth on their own, kids receive important benefits from preventive dentistry. Professional smile care is important for patients of all ages, but there are certain benefits to checkups for kids that should not be overlooked. At these visits, Sunny Smiles can provide helpful guidance to younger patients so that they develop the right routines between appointments. These appointments also help by providing updates about the developments of growing smiles, so problems can be spotted and addressed as soon as possible.
How Kids Benefit From Consistent Dental Care
At any age, a preventive dental exam will provide helpful information about the state of your smile, and it will help you fight the accumulation of plaque and tartar that can negatively affect your well-being. Children also benefit from dental appointments, but there are additional reasons for younger patients to come in for consistent appointments. At these visits, we provide helpful guidance regarding how to care for teeth and gums at home, and what kids can do to protect themselves. We also provide information on why good oral hygiene is important.
The Connection Between In-Office And At-Home Care For Kids
Even before they are old enough to care for their teeth on their own, kids benefit from learning about how they can care for their teeth. These early sessions can prepare them for brushing and flossing on their own, and it can ensure they take these tasks seriously. At checkups, we can provide assistance to kids directly. Between this and the in-office support that we provide, we can make sure kids grow up with healthier, more confident smiles!
Make Sure Your Oral Health Needs Are Being Met, Too
Finding a dependable family dentist means you can make sure everyone is able to enjoy meaningful oral health support in your household. Bringing your kids in for preventive care is certainly valuable, but make sure you schedule your own appointments. Doing so shows them that you take your oral health seriously, and it provides you with valuable early warnings when there are problems present. Adult oral health care covers dental and periodontal care, and we can also warn you about other potential problems, such as concerns about TMJ disorder.
Talk To Sunny Smiles To Plan A Dental Visit For Your Kids
Through regular dental visits, people of all ages benefit from important protection for their teeth and gums. What makes these visits especially important for kids is that they help inform kids about the importance of oral hygiene. We are here to help everyone in and around the El Paso area keep their smiles in great condition. To find out more or set up appointments for your family, please contact Sunny Smiles in El Paso, TX by calling 915-859-7000.