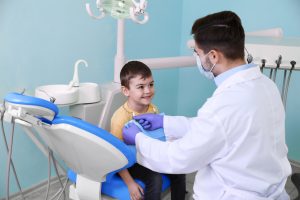 Teaching your kids to practice good oral hygiene habits is important, and it will have long-term benefits. You can demonstrate good habits when caring for your own teeth, share why preventive care is so important, and help them enjoy healthy foods and drinks that are low in sugar. Your influence will be important, but it is also important to make sure kids have support from their dentist. Sunny Smiles cares for patients of all ages, including those who are coming to the dentist for their first-ever appointment. In addition to providing care during their visits, we offer guidance to our young patients to help them learn how they can keep their teeth healthy!
The Importance Of Helping Kids Learn To Care For Their Smiles
Even after they start to brush and floss for themselves, kids depend on the guidance of their parents for smile support. In addition to providing the right meals and snacks, you can help them understand why they need to be consistent with their oral hygiene efforts and model the right habits for them. Your role is important, but they also benefit from regular dental checkups and cleanings with their dentist. At pediatric dental exams, we can provide information and help regarding smile care. We can also intervene when children require treatment for cavities, which can stop a problem from worsening.
Treating Kids Who Have Cavities
A cavity is a problem at any age. Kids who have problems with dental decay can experience discomfort, and they can be more likely to have problems with the development of their smile when baby teeth develop cavities. When a problem is identified during an exam, we can provide careful, conservative treatment for decay to prevent complications and preserve their smile.
Our Office Is Here To Support Patients Of All Ages!
Everyone in your household should enjoy reliable dental care. You may not require the same guidance that your kids do when it comes to oral health, but it is still important for you to schedule regular dental exams. At these appointments, we provide detailed cleanings and evaluations to help you stay informed about the condition of your smile. In addition to looking out for decay, we can help you manage problems with your periodontal health, and we can take care of problems with your jaw movement that can cause discomfort.
Discuss Smile Care For Your Kids At Sunny Smiles!
Patients of all ages benefit from preventive oral health services. At our practice, we provide valuable smile protection for people of all ages in and around the El Paso area. If you would like to schedule an appointment for yourself or a family member, please contact Sunny Smiles in El Paso, TX by calling 915-859-7000.