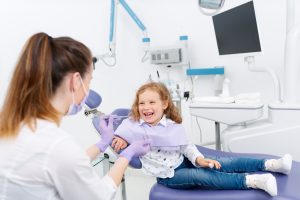 As a parent, you have an active role to play in helping your child stay safe against cavities. Until they are old enough to brush and floss on your own, you will have to help them by carefully cleaning their teeth and gums. While this is certainly an important responsibility, remember that you do not have to be the only one helping them avoid oral health trouble! Sunny Smiles meets with patients of all ages. For kids, we can provide pediatric dental exams that focus on preventive care as well as instruction on good oral hygiene practices. Between support we provide in the office and the work we do to help kids learn to care for their teeth, our practice can do meaningful work to help our youngest patients avoid dental decay!
How Pediatric Dental Exams Benefit Kids
Dental care should begin at an early age. Once a child's teeth begin to arrive, they face cavity risks. Early appointments can help you keep them safe from this problem, and they provide early intervention if your dentist identifies any concerns about the development of their oral structures. As they grow older, kids can take away helpful lessons about how to care for their teeth, and they can learn more about why they should take the prevention of cavities and gum disease seriously.
Bringing Your Child In For Preventive Care
Your child can begin to see their dentist for regular pediatric exams at around the age of three, but they can come in for an early evaluation once their first tooth arrives. For these initial visits, we can take special care to provide kids with positive experiences that make them feel more comfortable in their new surroundings. This can make them more comfortable with their dentist and the care provided at a checkup.
Like adults, kids benefit from both careful reviews of their teeth and gums and cleanings to remove plaque and tartar. In addition to looking out for problems that people of all ages face, we can also watch out for developmental concerns. At an earlier age, you can receive a helpful warning that your child may require orthodontic work, or that another issue may need to be resolved.
What Will Happen If My Child Does Have A Cavity?
If your child ends up experiencing a problem with tooth decay, we can help! When we perform restorative dental work, we take care to minimize changes to a person's enamel and appearance. Through treatment, we can stop a problem with decay from worsening and potentially affecting the development of their smile.
Schedule Pediatric Dental Care At Sunny Smiles!
The right approach to pediatric care can help your kids grow up with confident, healthy smiles! To find out more about our pediatric services, or to discuss our general dental care, contact Sunny Smiles at our Dyer St location in El Paso, TX by calling 915-859-7000.