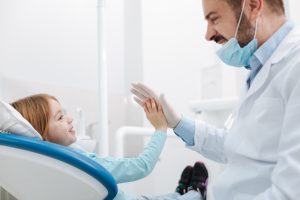 Even after they reach an age where they can brush and floss for themselves, kids depend on their parents for oral health support. Because of this, you can feel a sense of guilt as well as alarm if you learn that your child needs treatment for a dental problem. You can be relieved to know that Sunny Smiles is prepared to help our youngest patients deal with dental trouble. We can provide a conservative treatment that puts a stop to any discomfort they feel and keeps their tooth safe. Timely care does more than just stop a cavity's growth. By acting to treat trouble with a developing smile, we can prevent complications that affect their growth and lead to issues that have to be addressed later.
Oral Health Issues Can Affect A Person At Any Age
Good oral health habits are important at any age, as we are all susceptible to problems with tooth decay. If your child develops a cavity, the appropriate restorative dental work can protect their smile, address health concerns, and prevent future problems. One way to lower their risk for trouble, and ensure any problems are caught quickly, is to bring them in for routine pediatric dental visits.
Bringing In Your Child For Conservative Dental Treatment
When working on a younger patient's teeth, we take care to provide minimal restorations that avoid causing problems with their appearance and keep them safe. A conservative filling can keep a tooth secure and make it safe for them to continue biting and chewing. Properly tending to a decayed primary tooth is important, as complications from a cavity can lead to its early loss, which can affect the movement and placement of the adult tooth waiting to erupt.
How Regular Checkups Benefit Younger Patients
Just as your regular exams keep you informed about your oral health and protect you against plaque and tartar buildup, preventive care for kids will help them avoid difficulties. An added benefit to pediatric appointments is that we can provide guidance to them regarding oral hygiene habits and the value of smile care. Early appointments also help kids feel at ease while they are in the dentist's chair, which can make future dental visits – and appointments to treat problems – less stressful for them.
Talk To Sunny Smiles About Scheduling Dental Work For Your Child
Our practice is happy to help families in and around the El Paso area manage their oral health needs and concerns. If your child experiences a problem like tooth decay, we can meet with them to treat the problem and work to ensure it does not lead to complications. To find out more about how we can help you, please contact Sunny Smiles in El Paso, TX by calling 915-859-7000.