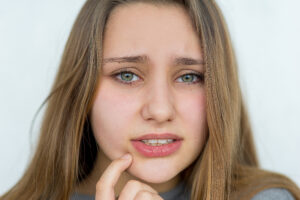 Tooth pain can be a tough issue to ignore. Fortunately, when you have access to reliable oral health services, you can promptly arrange treatment so that the cause of your discomfort is properly addressed. Sunny Smiles is here to help people of all ages in the El Paso area maintain healthy smiles. At regular appointments, we can provide oral health updates that include timely treatments for problems that patients were not aware of. We are also here to help if you need to set up an appointment to discuss a problem that arises and concerns you. When necessary, we can even make space to see you on short notice to provide emergency dental services.
Tooth Pain Can Call For Prompt Treatment
If you have an active problem with dental discomfort, timely care can certainly be a priority for you. Fortunately, you can rely on our practice for help in this situation! When the situation calls for it, we can bring you in for emergency treatment to address tooth pain or another pressing matter. Just as we take care to preserve a patient's smile when treating dental decay after a routine visit, we can take care to provide restorative work that preserves your appearance as well as your oral health when you come in for support on short notice.
Arranging Restorative Work In The El Paso Area
Our practice provides important services when oral health issues need to be treated. Depending on the state of your tooth when you arrange restorative dental work, we can provide different services that preserve your oral health and smile. Our more conservative option calls for the restoration of your tooth with a dental filling. This kind of restoration is capable of delivering lasting support while only treating an area where damage occurred. Ours are made from a composite material that both bonds with your enamel and matches its appearance. We can also take care of more serious problems through the placement of dental crowns. Because they completely surround your tooth structure, they offer more stability and protection when a filling is not equipped to provide long-term care. A crown can be used to support you if  need to undergo root canal treatment for an infection or internal injury.
Sunny Smiles Is Ready To Help When You Need To Address Tooth Pain
When tooth pain starts to affect you, it can be difficult to ignore your need for treatment. Fortunately, you can count on support at Sunny Smiles—in fact, we can even be there for you if you have a need for emergency dental work! If you would like to find out more about how we can help you, contact your El Paso, TX, dentists by calling our practice at 915-849-9000.