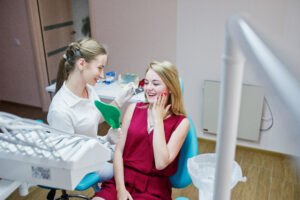 At Sunny Smiles, patients who need cavity treatment can count on support that fully restores their oral health and preserves their appearance. To provide these results, we need to provide different approaches to restorative dental work. Simply put, cavities continue to grow and do more damage to your tooth until you arrange the appropriate care. That can change how decay needs to be addressed. Depending on the state of your smile at the time of your treatment, we may be able to provide care with a dental filling, but it is possible that we will need to provide more involved care to address significant structural damage and an infection.
Even A Small Cavity Should Be Taken Seriously
While cavities that are caught in time only require conservative treatment, you should still take the matter seriously and arrange treatment promptly. When a delay in care occurs, you make yourself vulnerable to more damage to your enamel. In time, that can lead to worsening harm that has to be addressed. It also leaves you at risk for the onset of an infection that will require root canal treatment. Our practice is ready to help you if you need endodontic treatment through root canal therapy, but remember that we are also here to help before this becomes necessary. In fact, you can lower your risk for complications by keeping up with dental exams, which will give you early warnings about the kinds of problems that require treatment with a dental filling.
Planning Restorative Work With A Dental Filling
A dental filling is a restoration that covers an area where decay damaged your enamel. It is only placed after your dentist carefully removes bacteria and infected tissues, which prevents further harm to your tooth. We use a composite material that matches your enamel and preserves your appearance. The substance can even bond to your tooth and provide lasting support!
Taking On A More Severe Cavity
A more severe issue with dental decay will call for a more involved restorative procedure. It is important that we look out for signs of an infection. As bacteria make their way through your tooth structure, they can accumulate in your pulp, which can make you uncomfortable and put you at risk for tooth loss. Through a root canal, we can stop this from worsening. From there, we can restore your tooth with a custom dental crown that provides lasting protection.
Talk To Sunny Smiles About Treating Your Cavity!
Through the appropriate cavity treatment, we can put a stop to problems that you have with your oral health. Because we offer different options for care, we can make sure that you have the right protection and enjoy a full recovery from dental decay! If you would like to learn more, please reach out to Sunny Smiles in El Paso, TX by calling 915-859-7000.