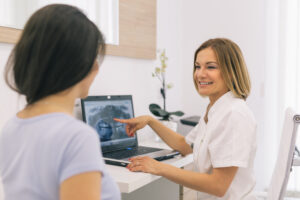 Taking proper care of your smile sometimes means seeking restorative treatment from your dentist. A problem with dental decay will put you at serious risk, as bacteria the cause the erosion of your enamel can eventually make their way into your pulp and create problems with a painful infection. To address this, or to prevent it with earlier cavity treatment, you can turn to Sunny Smiles for help. At our practice, we can offer different services for different degrees of decay. We can also provide lasting protection with dental fillings and dental crowns that can imitate healthy enamel.
Is It Time To See Your Dentist About A Possible Oral Health Problem?
The sooner you act to seek treatment for a possible cavity, the sooner you can have a problem fully resolved. Timing is a factor when it comes to how restorative dental work proceeds. A smaller cavity can be addressed with a dental filling, while one that has grown larger can make the placement of a dental crown necessary, and may even call for root canal therapy! You can lower your risk for any issues that call for more involved care when you regularly schedule and attend routine dental exams.
How Restorative Dentistry Deals With Active Smile Concerns
Restorative dental procedures involve both the removal of cavities and the restoration of a tooth. The site of decay will be carefully removed and treated to remove the threat from oral bacteria. For a smaller cavity, we can then place a dental filling at the site of treatment. When more severe issues are resolved, dental crowns are used to cover teeth and offer more protection. Root canal treatments deal with endodontic problems, which means the treatment will remove bacteria and infected tissues from within the tooth structure. We should note that while cavities are often the reason for these services, there are times when physical injuries make this kind of treatment necessary.
We Can Keep You Informed About The State Of Your Smile
If you want to stay better informed about your oral health, it is important that you regularly attend dental exams and cleanings. During these visits, we provide welcome updates about teeth and gums, and when necessary we can point out issues that will require further care. Because these visits provide dental cleanings as well as examinations, they can also make you less likely to need dental work done in the future.
Talk To Sunny Smiles To Schedule Restorative Dentistry In The El Paso Area
Through the right restorative dental procedure, we can make sure that a cavity or physical tooth injury is completely restored. If you wish to learn more, or if you feel you need treatment, contact your El Paso, TX, dentists by calling our practice at 915-849-9000.