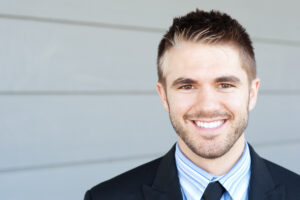 Are you truly prepared to take on the problems you have with the color of your smile? If you want to make significant changes to the way that you look, you can feel let down by the results offered by a store bought treatment. These can have some positive effects, but they can fail to produce the kind of improvements you feel are necessary. Fortunately, this is not the only option that you have. With a professional teeth whitening kit provided at Sunny Smiles, you can make more significant changes. Our customized kits help patients make their enamel many shades brighter, and still allow them to see those results from the comfort of their home.
Commercial Teeth Whitening Treatments Can Have Limited Effects
The whitening agents that you find on the shelves of nearby grocery stores and pharmacies can have some benefits for you. Unfortunately, they can fall short of making the changes you really want to see. What can you do if you feel you need to make your enamel many shades brighter to truly restore confidence in your smile? Instead of depending on what is available near you, talk to your dentist. You can still use a treatment kit from the comfort of your home. However, by using one provided at the dentist's office, you can count on it to be personalized for your use, and you can look forward to more stunning results, as we can provide stronger bleaching agents.
Using A Whitening Kit Prepared By Your Dentist
The whitening kits that we provide our patients are carefully prepared so that they will deliver exciting results, and so that patients have an easier time using them. These treatments include trays that are custom-made to fit securely and make the application of whitening gels easier. On a daily basis, you will apply them for a recommended period of time. As they take care of your teeth, they make your enamel brighter by dealing with the stains that have accumulated and settled over time. At the end of your daily applications, you can marvel at how much improvement you see!
Should You Explore Other Options For Cosmetic Work?
Not everyone with discolored teeth should focus on services that remove stains. If you have what is known as intrinsic discoloration, we can recommend other cosmetic services that are beneficial. Both porcelain veneers and tooth bonding and contouring work can cover up blemishes caused by changes within your tooth structure. These services also help you by changing tooth shape and size, and even by covering some spacing flaws.
Talk To Sunny Smiles About Using A Customized Teeth Whitening Kit!
With a professional teeth whitening treatment, you can do something about the color of your smile so that you feel more confident in how you look. To find out more about this and other services that we offer, contact your El Paso, TX, dentists by calling our practice at 915-849-9000.