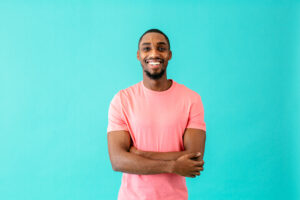 For people in and around El Paso who want to take care of enamel stains, Sunny Smiles is ready to help! Our practice provides multiple approaches to cosmetic treatment, which will help you show off newfound confidence in your appearance. For discoloration, we can provide a teeth whitening kit that is personalized for your use at home. Because you can take home this treatment, you can use it at your convenience and see stunning improvements. Unlike store bought treatment options, this allows you to make more significant changes in removing tougher stains that have settled over time. This is just one option for people who want to change how they look—we can recommend different services to help you with desirable improvements to the way they look.
Are You Feeling Self-Conscious About Your Smile?
There are different reasons why people grow self-conscious about how they look when they smile. With that said, many individuals share a concern about worsening teeth stains. We can pick up enamel stains from a number of different foods and drinks. Making a change in your diet to avoid darker items, and those richer in color, can help you avoid worsening changes. Unfortunately, you can remain frustrated by the presence of stains that have already gathered. While store bought whitening treatments can offer limited benefits, a kit personalized for you at our practice can help you deal with dull, discolored teeth.
You Can Pick Up A Personalized Whitening Treatment To Use At Home
Whitening kits are prepared for patients who want to do something about their embarrassing teeth stains. They include both effective bleaching agents and trays that make the daily application process easier. On a daily basis, you will apply these materials to the surfaces of teeth for a recommended period of time. Typically, full results can be enjoyed in a little under two weeks.
Why Discoloration Sometimes Calls For A Different Approach
For some individuals, discoloration can call for a different approach, as the issue is caused by changes in tooth structure. These changes can leave you embarrassed, and they can frustrate you as you look to take care of it on your own. Fortunately, there are other cosmetic dental procedures that can effectively address this. We can offer options like treatment with porcelain veneers, which cover the front surfaces of teeth to hide discoloration, damage, problems with wear and tear, and even issues with tooth shape and size.
Talk To Sunny Smiles About Using A Personalized Whitening Treatment!
Through your personalized teeth whitening treatment, you can fight embarrassing teeth stains and enjoy revitalized confidence in your smile! To find out more about this and other cosmetic procedures that we offer, please reach out to Sunny Smiles in El Paso, TX by calling 915-859-7000.