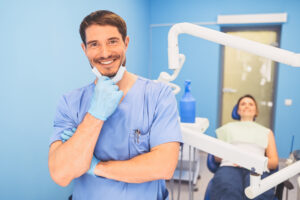 If something is wrong with your tooth, it can take a restorative dental procedure to address it and prevent further complications. Sometimes, a problem like with dental decay can be resolved with the placement of a dental filling. However, this is not always the case. The trouble with delays in cavity treatment is your tooth's health will keep worsening. Eventually, bacteria can actually reach your pulp, the central chamber of the tooth, and leave you with an infection that has to be managed. Fortunately, Sunny Smiles is able to help you by providing root canal treatment. This procedure deals with bacteria and damaged tissues to put an end to tooth pain and sensitivity, and stop further complications. After this is done, your tooth can be restored with a custom dental crown.

Why A Root Canal Might Be Necessary When You Have A Cavity
At first, a cavity only affects your enamel. When the problem is treated at this point, the issue can be addressed through the placement of a dental filling. This is a conservative treatment option that preserves healthy tooth structure as well as your appearance. Unfortunately, this is not always possible as a treatment, as the damage to your tooth can require more support than a filling offers. When your cavity is so severe that an infection develops, we can provide a root canal procedure to address it and prevent further trouble.
Arranging Your Restorative Procedure
After we confirm that a root canal procedure will be necessary, we can do the necessary work to remove bacteria and unhealthy tissues from your pulp. The careful process can put a stop to ongoing pain and sensitivity issues that are linked to your cavity. Once this is done, we can seal the pulp, and from there take care to provide a custom dental crown for lasting support.
What Keeps Your Tooth Safe After Your Root Canal?
A dental crown provides full coverage of your tooth above your gum line. Because there are different options for treatment, we can provide a restoration that imitates your enamel, so you will be able to maintain your appearance. In addition to providing esthetic support, your restoration can absorb bite pressure, which means you can stay reliant on the tooth when you bite and chew.
Talk To Sunny Smiles About Root Canal Treatment!
If you have a serious cavity, you may need root canal treatment to make sure that it is properly addressed. This procedure removes bacteria and damaged tissues within your tooth structure, stopping the spread of an infection that puts your overall oral health and smile at risk. To find out how you can make sure your problem is completely treated, or if you have any other concerns about your dental well-being, please reach out to Sunny Smiles in El Paso, TX by calling 915-859-7000.