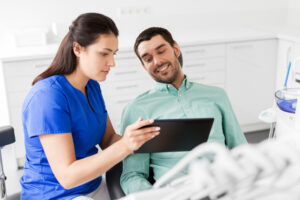 All of the time you spend caring for your smile at home is important. Without the right oral hygiene routine in place, you can struggle to keep yourself safe against problems like tartar buildup, dental decay, and gingivitis. What you should keep in mind is that in addition to protecting your teeth and gums at home, you should count on the support provided during your regular dental exams and cleanings as well. Sunny Smiles provides beneficial preventive care to patients of all ages in the El Paso area, and we can make sure that your daily efforts are combined with the kind of support that helps you maintain a lovely, problem-free smile!
The Importance Of Professional Dental Cleanings
Professional dental cleanings are an important part of the preventive services that are offered during your routine appointments. During these sessions, your teeth are carefully cleaned by your hygienist, who can remove tartar buildup as well as plaque from your smile. Your brushing and flossing routine can prove effective at stopping plaque buildup, and it can keep tartar from forming, but once this substance is present, you will need your hygienist's help to remove it. When this care is not provided, it is harder for you to stay safe from the issues that can negatively impact your well-being.
What To Expect At A Regular Checkup And Cleaning
During a routine oral health checkup and cleaning, there are several services that we provide to help you maintain a healthy, confident smile. The reviews that take place give you important updates about your dental well-being, and they can lead to timely care if there are any problems that your dentist identifies. In the course of your cleaning, your hygienist can point out areas where plaque and tartar are more present, which can alert you to shortcomings in your brushing and flossing habit. During appointments when patients exhibit signs of gingivitis, we can recommend a more involved cleaning that will remove accumulated bacteria under the gum line.
We Can Treat Problems Identified At Your Routine Visit
So what should you expect at an appointment where your dentist observes a cavity? The good news when it comes to dental care is that early treatment means more of your healthy enamel will be preserved. If you go without treatment for an extended length of time, the damage from advanced decay can make root canal therapy and the placement of a crown necessary.
Talk To Sunny Smiles To Schedule Your Next Dental Cleaning
Through your regular dental cleanings and exams, and your daily care at home, you can maintain a lovely, confident smile! Our practice is happy to meet with people of all ages in the El Paso area, so we can make sure that everyone in your family has the right support. If you would like to find out more, please reach out to Sunny Smiles in El Paso, TX by calling 915-859-7000.