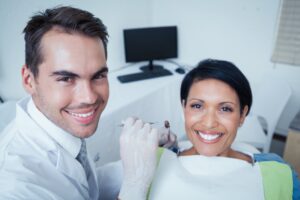 What does it take to make sure your smile is safe from both plaque buildup and tartar deposits? If you brush and floss thoroughly each day, you can control the accumulation of these materials, but you should not count on these actions alone. To keep your teeth and gums protected, keep up with regular dental cleanings to protect your smile from the accumulation of harmful agents. Sunny Smiles provides regular dental cleanings during general exams. These services are provided to patients of all ages, meaning we can help El Paso families keep up with their dental care at one convenient location!
Are You Doing Enough To Keep Your Smile Clean?
A consistent daily routine that includes both brushing and flossing will help you keep your smile clean and healthy through the years. Every day, we face the threat of oral bacteria buildup as well as problems with food debris gathering on our teeth. To stop the accumulation of harmful agents from forming plaque, and eventually hardening to tartar, you should brush at least two times, and you should floss at least once to keep your smile in good condition. While these actions certainly provide important protection, they should not be counted on to provide all of your protection against dental problems. You should also take advantage of the preventive services offered at regular dental exams and cleanings!
Scheduling Dental Cleanings For You And Your Family Members
Patients of all ages benefit from thorough teeth cleanings that remove harmful plaque and tartar buildup. For our youngest patients who come in for pediatric dental services, we can provide support through careful, age-appropriate cleanings. This is part of a larger commitment to providing positive early experiences, which can help kids feel better about dental visits in the future. For our adult patients, cleanings are included as part of every routine exam. By removing any plaque and tartar buildup found on your smile, we can help you stay safe against trouble with your teeth and gums over time.
More Benefits To Regular Preventive Dental Care
Preventive care lowers your risk for problems with tartar buildup, gum disease, and dental decay. When it comes to the kinds of issues that require restorative work, checkups provide early warnings as well as preventive support. When your smile is evaluated regularly, you can learn about problems that will need to be addressed before you experience complications.
Talk To Sunny Smiles To Schedule Your Next Dental Cleaning
Through regular dental cleanings, you can keep your smile safe from harm, as you can have harmful plaque and tartar removed to protect yourself from dental decay, gum disease, and more. To find out more about how we can help your family maintain healthy, confident smiles, please contact your El Paso, TX, dentists by calling our practice at 915-849-9000.