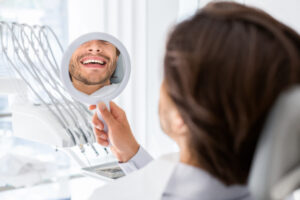 If you have problems with tooth pain, a trip to the dentist's office can feel like an obvious choice. What you should know is that Sunny Smiles is also here to help if your dental concerns are rooted in unhappiness over your appearance. We can provide a variety of cosmetic dental services that can effectively take on different issues with the way you look. Through these treatments, we can resolve problems that concern the shape, size, and color of teeth that you feel hold you back. While it is possible to plan more than one service, you can be surprised by just how much you can change about the way you look with one procedure!
Our Practice Can Provide A Range Of Cosmetic Services
We understand that people can have several issues with the way they look when they smile and speak. Dealing with cosmetic problems effectively can call for different treatment options. By discussing your goals for improvement with us, you can learn about the procedure (or procedures) you can most appreciate. We can take on concerns about dental discoloration, problems with wear and tear or dental damage, and even the kinds of naturally occurring issues that might leave you with a flawed or generally awkward smile.
Planning Your Treatment To Improve Your Smile
Your cosmetic dental procedure can provide a surprisingly short path to a better smile. There are options like tooth bonding and contouring work, a procedure that lets us change the shape, size, and color of teeth in a treatment we can complete in as little as one visit. You also have the option of using porcelain veneers to change how you look. Veneers are thin shells that we have custom-made to ensure that they provide the right improvements for your smile. For those who are focused on teeth whitening treatment, we can offer a personalized kit for use at home that can make teeth many shades whiter!
We Provide A Range Of Dental Services
Our practice provides a range of beneficial dental services to the El Paso community. We can take on problems with the way you look, but we can also discuss services that are able to take on active oral health difficulties. For patients who visit us regularly, we can provide welcome preventive services during routine dental exams and cleanings that will help them avoid difficulties in the future.
Talk To Sunny Smiles About Your Interest In Smile Care
Through a visit with your dentist at Sunny Smiles, you can learn about the different services we provide to patients who want more confident and attractive smiles. If you would like to find out more about how we can take care of you, contact your El Paso, TX, dentists by calling our practice at 915-849-9000.