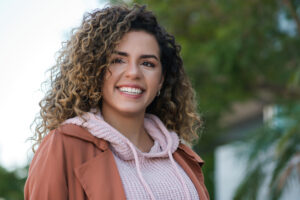 Is this the right time to look into cosmetic dentistry? If it is, will you really be able to find someone in El Paso who can provide the smile improvements you really want to see? Sunny Smiles offers many different cosmetic services, and can help you by working to make your desired improvements. Because there are several services that we offer, we can take care to provide options for care that can deliver the right outcomes while making treatment feel easier to start. Even if you have goals for cosmetic work that feel ambitious, you can find that care requires less time and effort than you anticipate!
Are You Ready To Make Your Smile More Attractive?
By exploring what cosmetic dentistry can do for you, it is possible to learn how you can transform your smile in ways that give you a welcome confidence boost. The right procedure can help you to address several areas of concern. In fact, many people can find that their procedure is able to tackle all of their issues at one time! You can also learn how a surprisingly conservative procedure can help you see those desired changes.
Reviewing Your Different Treatment Options
Which cosmetic procedure might be right for you? Porcelain veneers make it possible for you to see a wide range of improvements. These restorations provide solutions when you have issues like dental discoloration, enamel damage, and even problems with tooth size or alignment. A bonding and contouring procedure can also take on these issues, and it can do so while making your care more conservative. We can also focus on dealing with dental discoloration by providing a teeth whitening treatment.
Can Oral Health Issues Affect Your Plans For Cosmetic Work?
Problems with your smile can also pose problems for your oral health. This can certainly be the case when you have damaged enamel. You can also see unwelcome changes to the appearance of teeth that are affected by advanced dental decay. The good news is that when problems call for restorative dental work, you can look at the benefits of services that rely on lifelike dental crowns to provide results. These restorations can make you happier with your smile while they also help you preserve your dental well-being.
Talk To Sunny Smiles About Your Interest In Cosmetic Dentistry!
Are you ready to explore the benefits of cosmetic dental work? Are you eager to schedule care in the El Paso area? If so, Sunny Smiles is here to help! We offer several services that are focused on making welcome changes to your appearance. We can resolve problems that affect the shape, size, and color of teeth that currently look awkward or out of place. If you would like to find out more, please reach out to Sunny Smiles in El Paso, TX by calling 915-859-7000.