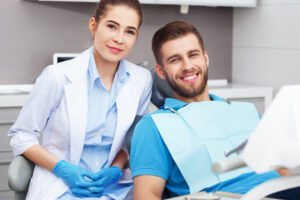 There are many reasons why you should stick to a consistent routine for preventing cavities. Once one forms, even if it is caught and treated promptly, it will do permanent harm to your enamel. If it is not addressed in time, there are potential issues with infection that can cause discomfort and put you at risk for tooth loss! With the right support from Sunny Smiles, you can have your issues with dental decay completely managed. You can be happy to know that our restorative services do more than just preserve your oral health. With our lifelike dental fillings, we can see to it that your cavity treatment ends with your tooth's health and appearance properly preserved! When appropriate, we can also use dental crowns to take care of these issues, and we can stick with our goal of preserving your appearance.
Enjoy Cavity Treatment That Preserves Your Smile
If you need to undergo restorative dental work for a cavity, you should know that your dentist will have to place either a filling or a crown to keep your tooth safe. That support is needed because damage to your tooth structure is permanent, and will leave you vulnerable to problems. The good news is that the right restoration can provide important support so that you can bite and chew without difficulty, and it can also provide cosmetic benefits. We can place a custom filling that is a good match for your surrounding enamel, which keeps it from being noticed when in place. This material actually bonds to the tooth structure to provide cosmetic benefits as well as lasting stability.
Planning Your Restorative Treatment
When you come in for treatment, we will take care of the damaged portion of your tooth to stop any further damage. Based on its condition at this point, we will see if you require a filling or a crown to support the tooth. A dental filling is your more conservative option, and the one we can recommend whenever possible to preserve more of your enamel. Once in place, it will provide protection by keeping the affected area safe from bacteria and stabilizing the structure. Because it bonds directly to your enamel, your composite filling can provide remarkable support over the years.
What Regular Checkups Do For Your Relative Cavity Risk
What can your regular dental checkups do to help you avoid problems with tooth decay in the future? At each visit, your smile will be thoroughly cleaned as well as checked by your dentist. Cleanings lower your risk for problems by removing any plaque and tartar we find, as well as any remnants of food that might be present. Your reviews can alert you to problems before there are complications, which can make necessary care easier.
Talk To Sunny Smiles About Receiving A Lifelike Dental Filling
With your custom dental filling in place, you can count on lasting support for your smile as well as your dental health. If you would like to find out more, please contact your El Paso, TX, dentists by calling our practice at 915-849-9000.