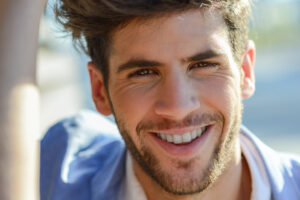 In the event that you have a cavity, your treatment will call for the placement of a permanent restoration. This is necessary because your tooth will experience permanent damage from decay. As frustrating as this can be, you can be reassured to know that your treatment at Sunny Smiles can preserve your appearance and protect your tooth structure. Our practice provides dental fillings that can both match the look of your enamel and bond to it to provide a long-lasting form of protection. Make sure you stay consistent with dental exams, as they both help you avoid future problems with cavities and provide reviews to confirm that your restorations remain in good condition.
Why Cavity Treatment Involves The Placement Of A Restoration
Once a cavity forms, there will be no way to avoid permanent damage to your enamel. As a consequence, you will need to schedule restorative dental work that covers the affected area and keeps your tooth safe. The good news is that a restoration can provide both structural support and the kind of coverage that preserves your smile. Depending on the size of your cavity, you can have a filling put in place, or you can have a dental crown set over the tooth.
Receiving A Dental Filling That Matches Your Enamel
When we catch a cavity in time, we can place a dental filling that covers the affected area and leaves the surrounding structure unchanged. With the composite resin material we use to treat teeth, we can match your enamel and help you avoid concerns about your appearance. A custom filling made with composite resin material even bonds directly to your tooth to provide reliable support.
Restoring Your Tooth With A Crown
Going without regular dental exams will leave you at risk for more severe decay. The longer you wait to go in for routine care, the more time a cavity has to grow and do permanent harm to your tooth. In these situations, you can require more than just a filling. Instead, we can provide a dental crown that is custom-made to fit over your tooth and supply the right protection to ensure you have no issues. In some cases, a cavity will call for treatment in the form of root canal therapy, which deals with an infection within the tooth structure.
Talk To Sunny Smiles About Restoring Your Tooth With A Filling
By restoring your tooth with a lifelike composite filling, we can preserve your oral health and smile after taking care of a cavity. Whether you want to discuss restorative work, cosmetic services, or general care, we are here to help you manage your smile and oral health! For more information, please reach out to Sunny Smiles in El Paso, TX by calling 915-859-7000.