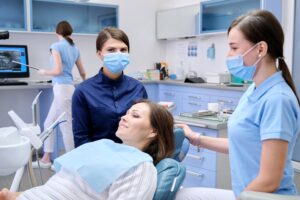 How many trips to the dentist's office did you take this past year? Unless you are following instructions by doing something different, you should have a new appointment every six months. If you stick with this semiannual schedule, you can have an easier time protecting your smile and preventing potentially serious issues that can arise. Sunny Smiles is here to help you stay on top of your smile care. Whether you need to arrange an appointment after a long time away or need to book a new visit to stay current with smile care, we can help! Because we offer our services to kids as well as adults, we can make it easier for everyone in your family to regularly attend checkups.
How Regular Checkups Protect You From Dental Problems
At every routine visit, you receive helpful feedback about your smile, but you also enjoy in-office care that can make them less likely to occur. Because these visits include cleanings that will remove plaque and tartar, you can count on them to lower your risk for gum disease as well as dental decay. Your hygienist can also carefully tend to spaces you may have a harder time reaching, which gives them an important extra level of support. When you meet with your dentist, you can learn about any problems that might require attention. Beyond just looking for evidence of cavities or gum disease, we can spot other issues, such as TMJ disorder due to poor bite movement, that can hurt your quality of life.
Scheduling A Checkup And Cleaning
For people who are behind on routine oral health services, it is certainly a good idea to set up anther appointment. We can tend to the accumulated plaque and tartar you have picked up since your last visit. Because tartar deposits remain until another professional cleaning takes place, you may have more problems with unsightly buildup, which can make you more likely to have problems that require restorative dental work. We will also update you about any changes to your smile, including those changes that can call for professional care.
More Steps You Can Take To Make Sure Your Smile Is Protected
Even when you have regular oral health checkups scheduled, you should have a strong plan in place to keep up with smile care at home. During each day, you should brush at least twice, and you should floss at least once. Remember that your diet also has real impact on your smile—protect your teeth by maintaining limits on your sugar intake.
Schedule Your Next Dental Checkup At Sunny Smiles!
Make sure your 2022 includes regular visits with your dentist! By sticking to consistent exams and cleanings, you can have an easier time preserving your appearance and oral health. For more information, please reach out to Sunny Smiles in El Paso, TX by calling 915-859-7000.