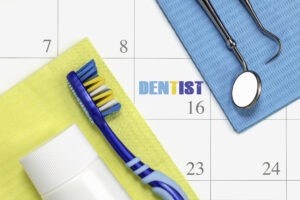 What should you do to make sure you are ready for the start of the new year? It can arrive sooner than you anticipate, but you still have time to make sure your smile has the right support. Unless you are told by your dentist to do something different, you should make sure that you have two appointments per year. Semiannual dental exams keep you supported when it comes to preventing issues like dental decay and gum disease. Patients who come to Sunny Smiles can look forward to important support by cleaning and thoroughly reviewing your teeth. Because we provide services to patients of all ages, we can welcome kids as well as adults!
Make Sure Your Dental Checkups Are Scheduled
Simply put, your access to preventive dental care will play an important role in keeping you safe from the problems that can negatively impact your oral health. These visits include professional cleanings as well as careful reviews. By staying consistent with appointments, you lower your risk for new problems, and you can have issues that arise between appointments properly treated before they can worsen.
What Services Are Provided During Your Checkup?
Both teeth cleanings and oral health evaluations have important benefits for your long-term smile health. Cleanings are your defense against tartar accumulation. While you can stop tartar from forming when you have a smart oral hygiene routine in place, your brushing and flossing routine will not be able to remove the deposits that have formed since your last appointment. Reviews can lead to more than just the identification of problems like tooth decay and gum disease, though identifying both will be important. Your checkups can also lead to the detection of other issues, such as evidence of poor bite health and alignment, which can point to issues with TMJ disorder that need to be addressed.
Dealing With Problems Identified At Your Appointment
What will take place after your dentist identifies a cavity? A problem with decay caught during a routine checkup can often be treated with a dental filling. We only need to remove the affected area, and can place a filling so that we do not have to alter surrounding healthy enamel. We can also provide timely support through a deep cleaning that addresses gingivitis. For other issues, like TMJ disorder, we can provide recommendations based on the condition that you face.
Schedule Preventive Dental Care At Sunny Smiles!
Through preventive dental services, we can provide important care to help keep you from experiencing oral health problems. You should have appointments set at six month intervals. Make sure your appointments are set for the new year, and that you continue to care for your smile between appointments. To find out more about how preventive care can help you, please contact your El Paso, TX, dentists by calling our practice at 915-849-9000.