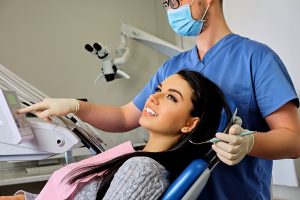 How worried should you be when you start to experience problems like persistent tooth pain, heightened sensitivity, or problems like swelling and tooth discoloration? The unfortunate concern at this point is that your tooth has become infected, which can happen because of advanced dental decay or an injury. The good news is that the right treatment, when performed in time, will prevent the matter from growing more severe. Sunny Smiles can determine if you require root canal therapy for an advanced cavity or injury. If you do, we can both provide your root canal and take care of your tooth after by securing it with a custom dental crown.
The Importance Of Properly Treating Potential Dental Problems
Properly treating a problem with tooth decay or a physical injury is certainly important. What you may not realize is just how much timely care matters. If a cavity is identified in time, you can avoid the kind of complications that require more involved services. Instead of needing a root canal, your tooth can be restored with a dental filling. With that said, once the problem is more advanced, the right procedure offers important benefits. You can put a stop to active dental discomfort, and you can avoid the kind of complications that can further hurt your health or lead to the loss of your tooth!
What Does A Root Canal Treatment Actually Address?
Root canal therapy deals with problems within your tooth structure. Both physical trauma and infection can lead to issues within your pulp, the central chamber where your tooth's living tissues are located. Removing bacteria and unhealthy tissues will stop your discomfort, and it will keep you from experiencing further oral health concerns. After this work is done, we can move forward with restoring your tooth with a custom dental crown.
Restoring Your Tooth After Your Root Canal Is Performed
After your root canal is performed, your tooth will need support to stay safe and secure. This treatment calls for more than a dental filling. To provide the right support, we will supply a dental crown that is carefully made to support you. The crown can be made from different substances, including materials that can imitate your healthy enamel.
Talk To Sunny Smiles To Schedule A Root Canal In El Paso, TX
Through the right restorative services, we can help patients deal with different degrees of oral health problems. If a problem is serious enough to cause you to experience an infection, we can offer support via root canal therapy! Through this service, we can address issues within the tooth structure that need professional attention. To find out how this and other services can help you, please call Sunny Smiles at our N Zaragoza Rd location today at 915-849-9000.