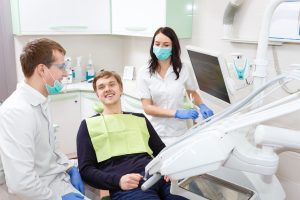 In time, a cavity will cause significant harm to your tooth. If you have to address advanced decay, it may be necessary for you to set up root canal therapy. This becomes necessary when bacteria start to gather within your pulp, the central area where living tissues are stored. Fortunately, this is a problem that Sunny Smiles is ready to address for those in and around El Paso, TX. After your treatment is complete, you will no longer have to worry about pain or sensitivity issues that have impacted your tooth, and you will be free from worry about the further spread of bacteria. To provide protection after treatment, we can use a lifelike dental crown to restore your tooth.
Is Your Dental Trouble Really Going To Call For Root Canal Therapy?
There is time to have a cavity restored before you need a root canal. In fact, you can actually lower your risk for complications from tooth decay when you schedule dental checkups on a regular basis. Doing so ensures that you are checked regularly for problems that might require restorative dental work. Once caught, your dentist can provide a filling to address a cavity. Unfortunately, when decay is not identified in time, it can become a more serious problem, one that eventually calls for a more advanced treatment.
Planning Your Restorative Work
We will base our plan for your restorative dental work around the current state of your tooth. If there are signs that it has become infected, root canal therapy will remove the bacteria and infected tissues so that you can recover from the problem. The procedure will see your dentist work carefully to both access and treat your pulp. When this work is done, it will be sealed, and you will receive a custom dental crown to provide protection.
We Can Restore Your Tooth Without Changing Your Smile!
Restoring your tooth properly will keep it safe so that you can bite and chew without difficulty. It can also provide cosmetic support, which means it will not alter your appearance when you smile and speak. We can make sure that your custom dental crown stays secure by carefully measuring and preparing your tooth. At a second appointment, you will receive your restoration, which will be permanently set in place to provide lasting support.
Talk To Sunny Smiles To Schedule Your Root Canal Treatment
Through root canal treatment, we can take care of a potentially severe problem with a tooth affected by decay or physical injury. This procedure deals with bacteria and damage within the pulp, which can stop complications that put your smile and overall health at risk. We can also provide restorative treatment to keep your tooth safe without changing its appearance! If you have questions or wish to set up your appointment, please contact your El Paso, TX, dentists by calling our practice at 915-849-9000.