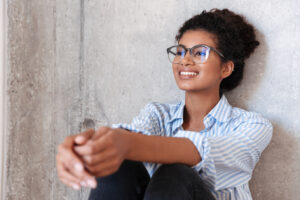 There are different solutions to common smile problems, but you can find that better results are attainable when you discuss cosmetic treatment with your dentist. Patients at Sunny Smiles can see welcome results from teeth whitening treatment when they come to us for support. What may surprise you is that we can actually help you take care of frustrating enamel stains from the comfort of your home, as we do provide personalized kits for the treatment of discoloration. This is just one of several procedures we make available to patients. Other options for treatment can help you deal with problems that affect the shape, size, and color of your teeth, so you can the kind of results that most excite you!
Have You Lost Confidence In Your Smile Because Your Teeth Look Discolored?
Through the steady accumulation of enamel stains, many people start to lose their confidence in their smile. The frustrating truth is that it can prove difficult to avoid all of the foods and drinks that leave behind stains on your enamel. With that said, you do have options if you want to effectively treat this issue. Although store bought whitening kits offer less potent options for care, you can see real improvements even if you want to take care of this problem at home. This is because your dentist can prepare and provide a customized whitening kit that delivers impressive results!
Take Home A Whitening Kit Prepared For You
When you opt for treatment with a personalized whitening kit, you can look forward to meaningful cosmetic improvements. This is because your dentist can provide a whitening kit that contains materials strong enough to address the buildup of particles that have gathered in your enamel and dulled your teeth over time. Unlike store bought products, which can have limited impact, the materials in your professional kit can take on deeper and tougher stains. Patients also take home customized trays that make the application of these materials easier.
Looking At All Of Your Options For Cosmetic Treatment
While many people focus on improving the color of their smile, others who want cosmetic dental work can have issues with the condition, shape, and size of their teeth. Because we offer several treatment options, we can help you find the right one to improve the way you look. You can make lasting improvements when you have porcelain veneers placed on your teeth, or when you undergo tooth bonding and contouring work.
Talk To Sunny Smiles About Professional Teeth Whitening Treatment
When you take home a personalized teeth whitening kit provided at Sunny Smiles, you can see exciting changes to your smile! If you want to learn more about this and other cosmetic services that we provide, contact your El Paso, TX, dentists by calling our practice at 915-849-9000.