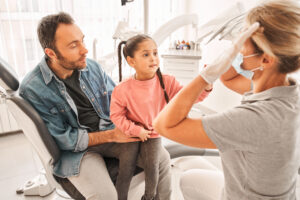 The holidays provide many opportunities for families to spend time together, and many excuses to enjoy indulgent foods and desserts. In other words, while this time of year can be plenty of fun, it can also be trouble for your teeth if you are not careful! If you have children, particularly younger children, you need to think about how you can protect their smiles as well as your own. Fortunately, you can count on Sunny Smiles for help with this, as we can provide beneficial family dental appointments in the El Paso area. By doing so, we can help those who are in and around our community take care of their teeth and avoid post-holiday cavities!
The Year Is Almost Over—Have You Been Consistent With Preventive Dental Care?
Because patients are told to schedule dental exams every six months, you should see your dentist at least two times each year. Because 2021 is drawing to a close, both appointments should have happened, or your second should take place soon. If you are due for another visit, our practice is here to help. We provide oral health services for kids as well as adults, so we can see to it that everyone in your household receives the right attention to protect their teeth and gums!
Scheduling Care For Your Family Around The Holidays
Our office remains open, and we are here to help families who want to ensure that their teeth and gums are taken care of at a time of year when cavities can be tougher to avoid. During your routine dental exams, you can look forward to thorough reviews that update you about the state of your smile, and you can count on teeth cleanings that fight the accumulation of plaque and tartar.
Additional Tips To Help You End The Year With Healthy Teeth
Around the holidays, it can be more difficult to stick to the kinds of decisions that keep you safe from dental decay. Be mindful of what you are consuming at holiday gatherings, and take care to balance meals with more healthy sides. You should also be careful not to be too indulgent with snacks and desserts, as they can sneak more sugar than you realize into your diet. If part of your holiday plans involve travel, be consistent with your brushing and flossing, and make sure that your children do the same.
Schedule Dental Services For Your Family At Sunny Smiles!
Through regular dental services, we help families in and around El Paso maintain healthy, confident smiles! Sunny Smiles is here to help you make sure you end the year without dental problems, and we can also help take on any concerns about the health or appearance of your teeth. If you would like to find out more, please contact your El Paso, TX, dentists by calling our practice at 915-849-9000.