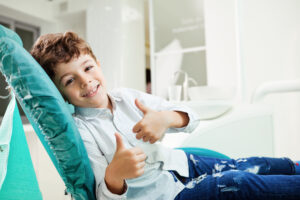 While everyone in your family should have access to reliable oral health care, you should be aware that parents and kids have different needs from their dentist. This is because kids require additional help to learn about proper smile care, and to feel comfortable with the care provided in the dentist's chair. Fortunately, it is possible for you to ensure that everyone in your household has access to the right kind of support. Sunny Smiles offers reliable family dental care in the El Paso area. Because we can treat people of all ages, we can provide checkups, cleanings, and more to you and your family members!
Our Practice Is Here To Help Your Family Keep Up With Oral Health Concerns
Our practice provides a variety of important services that keep you safe from the kinds of oral health issues that can disrupt your smile and oral health. For adults, cavities and gum disease can lead to unwelcome health complications as well as concerns about your smile. For kids, there are additional concerns. If a primary tooth ("baby" tooth) is affected by decay, the complications can affect the secondary tooth ("adult" tooth), leading to early and uneven eruption and other issues. Our practice makes it easier for you to schedule the services that you require because we consistently offer support for people of all ages.
Scheduling Your Regular Dental Exams
Keeping up with your oral health will help you preserve your smile and avoid potential threats to your general well-being over time. You should see your dentist every six months for routine services. If there are issues that affect how often you should come in for preventive care, we can let you know and work with you to provide the right support. During general exams, we provide cleanings along with thorough evaluations that are beneficial for preventing cavities and gingivitis. We can also watch out for issues like TMJ disorder, which can lead to worsening pain as well as trouble with your jaw movement.
What We Do To Help Kids Keep Their Teeth Healthy
Kids look to their parents for guidance in so many areas. While they count on you for care to keep their teeth healthy, remember that they should also receive support from their dentist. Early pediatric dental exams provide the kind of consistent care that keeps adults healthy, but they also receive gentle support and guidance regarding oral hygiene that will help them avoid problems as they grow up and take on more of the responsibility of caring for their smile.
Bring Your Family For Dental Care At Sunny Smiles!
Regular visits to see your dentist at Sunny Smiles can help everyone in your family avoid problems and preserve healthy, confident smiles! If you want to know more, contact your El Paso, TX, dentists by calling our practice at 915-849-9000.