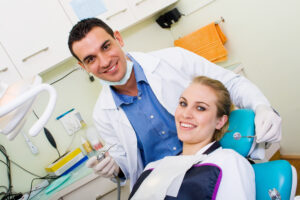 To be consistent about your oral health, you should stick to a regular schedule of routine dental appointments. At your regular dental checkups and cleanings, you can lower your risk for problems that require further treatments. You also receive timely alerts when problems are present, which will help you avoid difficulties in time to avoid complications. Sunny Smiles is here to provide regular dental checkups in the El Paso area to people of all ages. Because we meet the needs of patients of all ages, we can help you manage everyone's smile care needs at one convenient location!
When Did Your Last Dental Checkup Take Place?
Unless you are already following directions from your dentist by using a different schedule, you should seek routine care every six months. When you are consistent about semiannual dental exams and cleanings, you can keep yourself safe from problems like tooth decay and gum disease. The more time you spend without this kind of preventive care, the more likely you are to experience not just these problems, but problems that arise when they are not treated in a timely manner. In other words, falling behind on your checkups makes you more likely to have a cavity that worsens until your tooth becomes infected, or problems with gum disease that call for advanced care.
The Value Of Consistent Dental Services
Your regular appointments protect you in several key ways. The cleanings you undergo remove tartar buildup, which is something that you are unable to do for yourself whenever you brush and floss. They also give you helpful feedback regarding the effectiveness of your daily care. When your smile is evaluated, we can look out for cavities and gum disease, but we also watch for signs of poor bite health and wear and tear that suggest you have TMJ problems, and we can monitor the movement of your wisdom teeth if they have not been removed already.
We Help Kids As Well As Adults Maintain Their Oral Health
Our practice provides care to patients of all ages, so parents can see us and also bring their kids for treatment! When we provide pediatric dental care, we provide the right support to help kids feel at ease in the dentist's chair, and we offer guidelines to help them protect their teeth and gums once they reach an age where they can brush and floss on their own.
Talk To Sunny Smiles To Schedule Your Next Dental Checkup!
By staying consistent with your regular dental checkups, you can lower your risk for problems that negatively impact your health as well as your appearance. While the year's end is approaching soon, you still have time to fit in an appointment if you are due for another routine visit! To make an appointment or find out more about how we can help you, please reach out to Sunny Smiles in El Paso, TX by calling 915-859-7000.