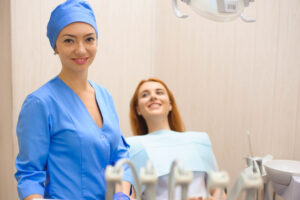 There are only so many hours available to you in a typical day to address all of your responsibilities. If you often struggle to keep up with your schedule, the idea of adding something to it, even something important, can be stressful. At Sunny Smiles, we want to make it easier for patients to receive important oral health services. One way we do this is by making our offices available on Saturdays! Access to treatment on the weekend can make it easier for you to come in and enjoy treatment, whether you need to see us for a routine appointment, or if you need to address an active problem.
Our Offices Can See Patients On Saturdays!
Our dental offices are ready to accommodate patients who want to arrange care on the weekends, with one location offering services by appointment, and the other maintaining regular hours. For those who have busy schedules, or those who need to see someone as soon as possible outside of "standard" office hours, this can make treatments feel more accessible. It is important that you do your part to see your dentist when the need arises. Whether you are staying current with preventive care or worried about a possible problem that will require treatment, we are ready to help!
The Importance Of Consistent Dental Exams And Cleanings
Routine dental exams and cleanings provide important protection over time, as they lower your risk for tooth decay and gum disease, and they also support you in keeping tartar buildup off of your smile. Unless you are told to do otherwise, you should plan on scheduling services every six months. By sticking to this routine, you can lower your risk for problems, and you can make sure that any issues you do have are caught and treated in time.
Visiting Your Dentist When You Have An Active Problem
When problems like tooth pain or physical injuries affect our patients, we want them to know that our practice is ready to provide emergency oral health services. You can meet with us on short notice to have your issue evaluated, which can lead to prompt care to restore your well-being and appearance. We can provide restorations that imitate healthy enamel, so a restored tooth can still look like a natural part of your smile.
Talk To Sunny Smiles About Weekend Dental Services
Through our weekend hours, we make it easier for people in and around the El Paso area to schedule oral health care. We are happy to meet with you to discuss routine matters, but remember that we are also here to help if you need to address a dental emergency. If you want to know more, please reach out to Sunny Smiles in El Paso, TX by calling 915-859-7000.