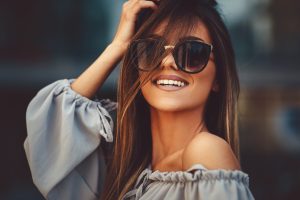 The goal when you arrange cosmetic dental work is to make changes that last. In other words, when you move forward with treatment, you can look forward to improvements that you can preserve for many years! Porcelain veneers make it easier to maintain those changes. While slim, they are remarkably durable, something that lets them keep their shape and appearance even through years of biting and chewing. At Sunny Smiles, we provide appliances that are custom-made for each patient, which will help make sure they have just the right look to give you a smile you are eager to share with the world.
What Smile Improvements Are You Looking To Make?
Even if you have multiple changes that you want to make, a single cosmetic procedure can be enough to give you all of your smile improvements. Because we offer care with porcelain veneers, we can resolve issues with discoloration, problems with the shape and size of teeth, and even concerns about the way your teeth are spaced in the span of only two appointments. Porcelain veneers can do this despite only covering parts of teeth; their coverage of the fronts of your enamel can effectively cover whatever concerns you have about your appearance. Their durable design will help you maintain your improvements over many years, which helps you sustain your confidence in the way you look.
Using Veneers To Change Your Appearance
Veneers are capable of making so many changes because they completely cover the front surfaces of teeth. That means we can preserve the surrounding tooth structure, which makes care more conservative. Each restoration that we place will be custom-made, with the goal to make sure they remain secure and also look natural. We can have your treatment complete in just two appointments. At the first, we do the preparatory work needed to deliver your improvements. We also do minor preparatory work to make sure that your veneers can be secured through the bonding process. They will be set in place at your second appointment, a time when you can look forward to seeing your remarkable smile improvements!
Reviewing All Of Your Options For Treatment
Porcelain veneers help many people, but they are not the right approach for everyone. You also have options like teeth whitening treatment, which will focus on changing the color of your teeth by addressing tough teeth stains, as well as tooth bonding and contouring. The bonding and contouring process is capable of making the kinds of changes we offer with veneers, but we can provide results in as little as one appointment!
Talk To Sunny Smiles About Treatment With Veneers
Through the use of custom porcelain veneers, you can take on problems with the way you look and count on those changes to last. With conservative treatment, we can change the shape, size, and color of your teeth to give you a long-lasting confidence boost. If you would like to find out more, please reach out to Sunny Smiles in El Paso, TX by calling 915-859-7000.