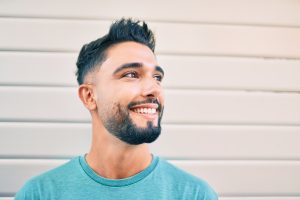 Do you see room for improvement in your smile? Even minor problems can draw significant unwanted attention, leading to feelings of self-consciousness. This can be the case if you have one tooth that looks out of place, or if general problems with the color or condition of your teeth make you unhappy. Sunny Smiles is prepared to help you take on different concerns that you might have about the way you look. Treatment with porcelain veneers can improve your smile by hiding the different flaws that might affect your teeth. We offer this and several other cosmetic procedures to our patients. By pursuing cosmetic dental work, you can put issues with smile confidence behind you!
What Would You Like To Change About Your Smile?
Many people can identify at least one issue they might like to improve when it concerns their appearance. For some, dental discoloration is a source of self-consciousness. Others can feel less attractive because their teeth look worn down or uneven, or because certain teeth are the wrong size for their smile. You might be surprised to hear that porcelain veneers are effective at treating these different problems. With this one procedure, we can actually take on several concerns at one time, leading to changes that you are eager to share with the world.
Arranging Treatment With Porcelain Veneers
Porcelain veneers are custom-made shells that your dentist affixes directly to your teeth. They only cover part of your enamel, which limits the amount of work that you ultimately need done. These slim shells are carefully made to fit over the fronts of teeth without looking awkward or unnatural. At an initial appointment, your dentist closely measures teeth being restored. This visit also gives us the opportunity to do preparatory work to make space for your restorations. At a follow-up visit, your veneers will be set in position!
Are My Smile Improvements Going To Last?
With any cosmetic dental procedure, the goal is to make lasting improvements. Porcelain veneers can make changes easier to preserve thanks to their impressive durability. As thin as they are, these cosmetic shells can hold up through years of friction from biting and chewing. You can protect your smile against changes by following good oral hygiene practices after your procedure, and by consistently seeing your dentist for routine care.
Talk To Sunny Smiles About Making Smile Changes With Veneers
With the right procedure, you can show off exciting cosmetic improvements! Our practice is ready to meet with you and discuss the different services we provide, and learn how we can help you feel more confident in your appearance. If you want to learn more about any procedure that we offer, please contact Sunny Smiles at our Dyer St office in El Paso, TX by calling 915-859-7000.